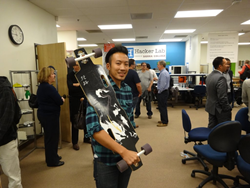 Experiences like Hacker Lab's Startup Hustle, where Sierra College students can work alongside entrepreneurs, enable them to apply what they are learning in the classroom.
Rocklin CA (PRWEB) February 05, 2016
Sierra College announces that Hacker Lab's Startup Hustle, an eight-week boot camp kicking off February 24, 2016, is designed to help budding entrepreneurs refine their startup concepts and prepare to launch their products and services. Through innovation curriculum, mentors and other startup resources, Hacker Lab, Sierra College and other community members will get these small businesses to the next level with proven tools and strategies.
The Startup Hustle application deadline is February 18. Applicants must submit one minute videos about the problems they are investigating and the potential customers for their solutions in addition to their backgrounds and reasons for wanting to participate in the program. A landing page may also be part of the submittal. Application is free for Hacker Lab members and Sierra College students; the fee is $149 for other participants.
Participating in Hacker Lab's Start-up Hustle in fall 2015 helped Jim Hsu of Elk Grove make progress on Eye2Mobile, a docking system designed to hold cell phones and work with eye care optical devices, such as slit lamps, retinal cameras and surgical lasers. As a result of participating, he expects to be producing the EyePhoneDock for sale in spring 2016.
Hsu felt that Startup Hustle gave resources to entrepreneurs that they probably couldn't access on their own. "The mentors' direction on where to go to get more information was tremendous," said Hsu. "This program's support gives the little guy some of the resources available to large companies. It turns innovators into entrepreneurs."
According to Eric Ullrich, Co-founder, Hacker Lab, Startup Hustle was inspired by the Lean Startup method, Adobe's Kickbox and Business Composer Innovation Strategy. "Startup Hustle approaches creating a new business using the scientific method," said Ullrich. "Participants will identify a problem, gather information about it, create a hypothesis and test that hypothesis. After connecting with customers and getting feedback, they will be able to conclude whether or not the problem exists, and how badly customers want a solution."
George Moua, owner of OpenBoard, crafts beautiful longboards that can be customized with the client's artwork. He explained that Startup Hustle encouraged him to get an early market response. "The mentors encouraged us to quickly get our products in front of customers," said Moua. "I became more comfortable presenting my business. If you have a small idea, this program can take it to a new level."
Guided by mentors and industry leaders, participants will meet weekly, access online resources, collaborate with fellow entrepreneurs and work many hours on their projects. Exercises will help them determine the value proposition their product offers, research the potential market, identify competitors and craft their pitch to investors.
Ullrich explained that by week eight, a participant will be ready to confidently explain the business model, target customers and market potential to investors. "The top ten pitches will be made to friendly 'sharks,'" said Ullrich. "The industry representatives will ask questions, make constructive comments and assess the business model's viability."
Sierra College is one of the first community colleges in the United States to establish a public-private partnership with a community maker space. Willy Duncan, Superintendent/President, Sierra College Joint Community College District, explained that Sierra College partnered with Hacker Lab to establish the Hacker Lab maker and co-working space in Rocklin, CA near the Sierra College campus in February 2015. "Sierra College students can join Hacker Lab for only $12.50 per month and they can participate in Startup Hustle for free," said Duncan.
"Experiences like Startup Hustle, where our students can work alongside entrepreneurs, enable them to apply what they are learning in the classroom," said Duncan. "The end result is that students can explore careers and the college environment inspires innovation. Our community college supports economic development by preparing students with an entrepreneurial mind-set to work at local businesses and offering support to those innovators who are starting new companies."
Sponsors of Startup Hustle include Sierra College, The Shop VSP Global, Business Composer, City of Rocklin, SMUD, California Community Colleges Workforce and Economic Development Division, City of Sacramento, Sierra College CACT, Golden Sierra and Bosley Till Neue & Talerico LLP.
For more information about participating or becoming a sponsor/mentor, please go to the Startup Hustle website or email: startuphustle(at)hackerlab.org and read stories about fall 2015 Startup Hustle participants .
About Sierra College CACT
The Sierra College Center for Applied Competitive Technologies (CACT) is focused on Advanced Manufacturing training and development, and is funded through the Workforce and Economic Development program of the California Community College Chancellor's Office. Since 1992, the Sierra College CACT has provided customized training for organizations, manufacturers and technology companies throughout Northern California. Additional information is available at http://www.sierracollegetraining.com or contact Carol Pepper-Kittredge at 916-660-7801 or cpepper-kittredge (at)sierracollege(dot)edu.
About Hacker Lab
Established in 2012 in Sacramento, Hacker Lab aims to educate folks and spark innovation with community driven resources. Offering co-working, maker space, courses, meet-ups and events, Hacker Lab believes that technology can change the world and the starting point is education. In 2014, Hacker Lab had over 200 members; 120 completed a survey and 33 provided company data that showed: $3.7 million in revenue was generated and 75 jobs were created, and 20 start-up ventures were launched. Hacker Lab has locations in Sacramento and Rocklin.
About Sierra College
Sierra College District is celebrating its 80th Anniversary in 2016, and the Nevada County Campus in Grass Valley is celebrating 20 years. Sierra College serves 3200 square miles of Northern CA with campuses in Roseville, Rocklin, Grass Valley, and Truckee. With approximately 125 degree and certificate programs, Sierra College is ranked first in Northern California (Sacramento north) for transfers to four year Universities, offers career/technical training, and classes for upgrading job skills. Sierra graduates can be found in businesses and industries throughout the region.