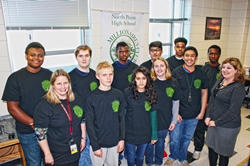 Suitland, Maryland (PRWEB) February 04, 2016
Andrews Federal Credit Union is the proud sponsor of the Millionaire's Club at North Point High School; the first of its kind in Charles County, MD. The students at North Point High School now have a new tool for personal financial success at their disposal.
"This club provides students demonstrating an entrepreneurial spirit with the necessary tools and skills to begin their journey towards becoming successful business owners someday," said Karen Ferguson, Business Education Teacher, North Point High School. "Andrews Federal Credit Union's financial support goes a long way in helping them to realize those dreams."
The Millionaire's Club is a complete financial skills program designed for delivery in a club-like setting at the high school level. Clubs are provided seed grants, detailed curriculum, and Faculty/Student materials at no charge. Also included is entry into national competitions such as The Stock Market Game™ and The Personal Finance Challenge™ and additional support materials which add a fun, competitive edge to the Club's activities.
Launched in 2012, the Millionaire's Club concept has caught the attention of educators and credit union sponsors alike in Anne Arundel, Baltimore, Calvert, Carroll, Howard, Montgomery, Somerset, and Prince Georges Counties and Baltimore City. Over 1,000 individual students have participated in the Millionaire's Club.
Credit Union Sponsors serve as guest speakers on topics such as identity theft, selecting a financial institution, credit, etc., while the core curriculum, developed by the National Endowment for Financial Education (NEFE), is delivered by professional educators either in-class or after school.
About Andrews Federal Credit Union
Andrews Federal Credit Union was founded in 1948 to serve the needs of military and civilian personnel by providing a vast array of financial products and services. With over $1 billion in assets, Andrews Federal has grown to serve more than 116,000 members in the District of Columbia, Joint Base Andrews (MD), Springfield, Virginia (VA), Joint Base McGuire-Dix-Lakehurst (NJ), and military installations in central Germany, Belgium, and the Netherlands. In addition, the Credit Union serves as a financial partner with many select employee groups in Maryland, the District of Columbia, Virginia and New Jersey.
To learn more about Andrews Federal Credit Union and its community involvement, or to become a member, call 800.487.5500 or visit http://www.andrewsfcu.org.