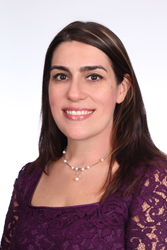 New York, NY (PRWEB) February 04, 2016
Tannenbaum Helpern is proud to announce that Festival of Song USA named Maryann Stallone, a partner in the firm's Litigation and Dispute Resolution practice, "Woman of the Year" at its 21st annual gala on January 31st.
Drawing hundreds of attendees to its annual event, Festival of Song USA keeps the arts and the Italian culture alive through music, dance, and food and collaborates with the Cantamare Festival in Sicily, Italy to promote the arts and Italian culture and tradition across two continents. Its "Woman of the Year" award recognizes an individual's drive to succeed, contribution to the community and accomplishments in their profession. This year's event was in memoriam of its founder Silvana Romania.
Born to two immigrants from Italy, Maryann is the first in her family to graduate from college and law school. In 2007, Maryann graduated from Brooklyn Law School, where she was a Primary Article and Symposia Editor of the Journal of Law & Policy and served as Secretary of the Italian American Law Students Association (IALSA). In her last year of law school, Maryann had her first child just weeks before her final exams and a few months before the bar exam. One of her proudest moments was walking on stage to receive her Juris Doctorate degree with her daughter in her arms.
As a commercial litigator, Maryann advises clients on complex business disputes and has handled cases involving securities fraud, breach of contract, business torts, employment discrimination, intellectual property infringement, and professional malpractice. She has represented clients in the hedge fund, private equity, REIT, law firm, accounting, dental, real estate, media and staffing industries. Selected as a Rising Star by Super Lawyers for 2014 and 2015 and as one of the Top Women Attorneys in Metro New York Rising Stars for 2014, Maryann is actively involved in Tannenbaum Helpern's Women's Initiative and co-authors the Attorney Professionalism Forum in the New York State Bar Association Journal.
A proud mother of three, Maryann is fluent in Italian and takes great pride in her Italian heritage, roots and culture.
About Tannenbaum Helpern Syracuse & Hirschtritt LLP
Since 1978, Tannenbaum Helpern Syracuse & Hirschtritt LLP has combined a powerful mix of insight, creativity, industry knowledge, senior talent and transaction expertise to successfully guide clients through periods of challenge and opportunity. Our mission is to deliver the highest quality legal services in a practical and efficient manner, bringing to bear the judgment, common sense and expertise of well trained, business minded lawyers. Through our commitment to service and successful results, Tannenbaum Helpern continues to earn the loyalty of our clients and a reputation for excellence. For more information, visit http://www.thsh.com or follow us on Twitter: @THSHLAW.
Media contact:
Nancy Wu
Tannenbaum Helpern Syracuse & Hirschtritt LLP
212-702-3147
wu(at)thsh.com
http://www.thsh.com