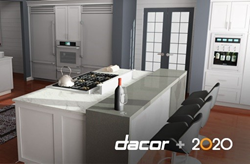 "Our partnership with 2020 is a testament to Dacor's history of embracing innovation and an opportunity to showcase our focus on technology fused with classic design," said Dacor President and CEO Chuck Huebner
Los Angeles, CA (PRWEB) February 04, 2016
Dacor®, a Southern California-based manufacturer of ultra-premium kitchen appliances, as part of a collaboration with 2020, creators of cutting-edge virtual 3D design planning software, invites interior designers to explore the possibilities of a Dacor kitchen through an interactive virtual experience.
"2020 software can show designers the future of 3D planning," said Dacor President and CEO Chuck Huebner. "Our partnership with 2020 is a testament to Dacor's history of embracing innovation and an opportunity to showcase our focus on technology fused with classic design."
TWEET THIS: Designers can create a #virtualkitchen featuring @DacorKitchen luxury #appliances using @2020spaces software: http://bit.ly/1OWpEjQ
An updated Dacor catalog offered through 2020 includes several ranges and wall ovens from the Discovery iQ™ line. This line of smart appliances features an integrated, wirelessly-connected tablet and proprietary technology which makes it possible for home chefs to control the range via any smart phone or tablet. Another new addition to the catalog is the Discovery® WineStation, the first commercial-grade, temperature-controlled, four-bottle wine dispensing and preservation system for the home.
"Dacor believes in integrating superior-performing appliances with today's technology to elevate our customer's cooking experience," said Huebner. "The products featured in the 2020 virtual kitchen are the next generation of innovative appliances that exist at the heart of a connected home."
Designers can log into the 2020 Cloud to explore the Dacor catalog of products and arrange them in a virtual simulation in their clients' dream kitchen.
To learn more about Dacor and its selection of ultra-premium kitchen appliances, visit dacor.com.
# # #
About Dacor
Founded in 1965, Dacor is a leading manufacturer of ultra-premium kitchen appliances. Designed and built in California, Dacor's cooking appliances integrate function and technology to create high-performing, intuitive products that reflect the lifestyle and needs of the passionate cook. Dacor is also the first and only ultra-premium appliance brand to be tested and recommended by the Master Chefs of Le Cordon Bleu. Le Cordon Bleu is considered the world's most respected culinary arts and hospitality educator. Dacor's full-suite of award-winning appliances include ranges, cooktops, wall ovens, refrigeration, ventilation and wine preservation. Family-owned for more than 50 years, the company is responsible for many of the innovations that have improved the way people cook in the modern kitchen.http://www.dacor.com
About 2020
2020 helps professional designers, retailers and manufacturers in the interior design and furniture industries capture ideas, inspire innovation and streamline processes. By providing end-to-end solutions and the world's largest collection of manufacturers' catalogs, 2020 provides businesses with the software and content to be more efficient, integrated and productive. 2020 applications allow professional designers to create kitchens, bathrooms, closets and commercial offices which look as stunning on the screen as they do in reality. To learn more, visit http://www.2020spaces.com.