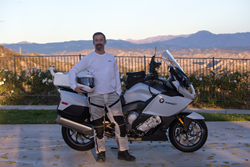 There is a reason this record has gone unchallenged for 30 years. Unless you have completed Army boot camp, it is difficult to relate the mental and physical exhaustion.
LOS ANGELES (PRWEB) February 04, 2016
Carl Reese of Santa Clarita, California broke the solo cannonball motorcycle record from Los Angeles to New York City in 38 hours, 49 minutes. Reese completed the 2,829-mile feat on a 2015 BMW K 1600 GT six-cylinder motorcycle, breaking George Egloff's previous record of 42 hours set in 1983.
No one in history, with the exception of Erwin "Cannonball" Baker himself, has set as many cross-country records in such a short period than Reese and his team. Reese set six records in under seven months from April through October 2015, including the official Guinness World Record for the shortest charging time from Los Angeles to New York City in an electric vehicle. In October 2015, Reese and two other drivers set the first semi-autonomous driving record from Los Angeles to New York City in 57 hours, 48 minutes in a Tesla Model S P85D.
Reese is now working with Hollywood-based filmmakers to produce a documentary highlighting the history of transcontinental driving records. The production team is seeking funds to complete the documentary. The documentary trailer can be viewed on YouTube and donations made on Indiegogo. Transcontinental driving records date back more than 100 years, when "Cannonball" Baker drove an Indian motorcycle from Los Angeles to New York City in 11 days. Historians attribute interest around such trips to advancements in transportation and manufacturing in the U.S.
"There is a reason this record has gone unchallenged for over 30 years. Unless you have completed Army boot camp, it is difficult to relate the mental and physical exhaustion," said Reese. To prepare his body, he gave up all stimulants before the run, including coffee, tea and sugar. "The immense level of fatigue driving a motorcycle solo for 38 hours is like finishing a UFC fight, then getting hit by a freight train. This was far more difficult than any other transcontinental record I've set to date."
While several people have set similar transcontinental records between different cities (e.g., San Francisco to New York City, San Diego to Jacksonville), only seven have successfully completed the solo motorcycle record between Los Angeles and New York City, including Reese. More people have walked on the moon than have set this record.
The BMW K 1600 GT used was acquired from West Valley Cycle Sales in Winnetka, California—the oldest BMW Motorrad dealer in the U.S. West Valley provided additional support and technical assistance throughout the trip. Leading technology provider of GPS tracking software for businesses with vehicles and other mobile assets, GPS Insight provided telemetry equipment.
Notaries and film crews were present at the start and finish locations, along with 13 witnesses, including Anthony Alvarado, Delaney Ashley, Matt Bartona, Ed Bolian, Jay Carlson, Rob Ferretti, Greg Ledet, Victor Manuel, Deena Mastracci, J.F. Musial, Matt Nordenstrom, Ryan Sorenson and Alex Roy.
As in his previous record runs, Reese carried an American flag for good luck. It was gifted to him by veteran and friend, retired Sgt. 1st class Rod Hawk. The flag originally flew at the U.S. Embassy in Mosul, Iraq and was presented to Hawk for his accomplishments during the war. Reese, who also served in the Army, said "I carry that flag to remind me of the men and women who have put themselves in harm's way to protect our freedom."
Photos and video footage from the record-breaking trip in August 2015 are available to members of the media upon request. For more information about this record-breaking trip and future expeditions, follow Reese's Twitter account, @EVRecordAttempt.
About TransContinental Drivers Association
Currently seeking legal entity status, the TransContinental Drivers Association is an organization that aims to celebrate those who make long trips. The TransContinental Drivers Association mission is to:
1. Celebrate the long, cross-country driver and his/her journey.
2. Preserve, validate and promote the history of transcontinental driving.
3. Nurture and support the interstate driving community.
For more information or membership, visit http://www.transcondrivers.org or http://www.facebook.com/transcondrivers/.