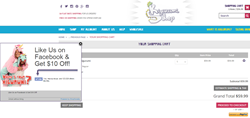 ShopSocially's innovative solutions have definitely helped us improve our sales rate and addressed our major concern of cart abandonment. - Atsushi Miyamoto, Manager of Kigurumi Shop
Santa Clara, CA (PRWEB) February 09, 2016
ShopSocially's customer,Kigurumi-Shop.com, a California based online retailer of high quality SAZAC Kigurumi recently launched an innovative incentive plan to counter the negative trend of cart abandonment during the holiday season. Kigurumi Shop noticed they were losing sales due to customers abandoning their carts just before completing a sale. To address this issue, Kigurumi Shop decided to test run an incentivized plan and focus on improving the cart abandonment recovery rate and increase sales. In order to capture the potential customers' attention and get them to reconsider their purchase, the online retailer offered visitors a $10 off incentive when customers tried to exit the cart page.
Kigurumi Shop strategically embedded ShopSocially's Get-a-Fan app to showcase the $10 offer incentive when the visitors tried to abandon their carts by exiting the page. Kigurumi Shop used ShopSocially's personalization engine to detect cart abandonment and offer customers a coupon incentive for completing the purchase. The incentive not only encouraged visitors to stay on the Kigurumi Shop page for longer but also to follow through with their intended purchase. The result was an impressive 59.32% sales conversion rate.
In addition, the Get-a-Fan app provided an optional feature to motivate customers to like the company's Facebook page. The option of liking Kigurumi Shop's Facebook Fan page offered by the app's interface was automatically brought up before the $10 discount coupon was displayed. This resulted in an outstanding fan conversion rate of 21.07%.
"Our main objective was to reduce cart abandonment and encourage customers to complete their purchase orders. By offering an attractive incentive just before they were about to abandon the cart page helped us achieve an impressive sales conversion rate of 59.23%." commented Atsushi Miyamoto, Manager of Kigurumi Shop. "ShopSocially's innovative solutions have definitely helped us improve our sales rate and addressed our major concern of cart abandonment."
The Get-a-Fan app is fully customizable to your brand as well as mobile friendly features like the ability to control where and when the app is activated; personalization options; and detailed analysis that allow you to accurately measure the impact of the app on your fan and sales conversion ensure its effectiveness. The user-friendly interface makes it simple to deploy.The app also promises to boost your site's Facebook fan conversion rate by 5-7 times; 100 times more engagement than that offered by a traditional Facebook widget.
"We are happy Kigurumi Shop could address its cart abandonment issue by embedding ShopSocially's app and achieve the impressive sales conversion rate of 59.32%.",commented Samir Palnitkar, President at ShopSocially, "Being innovators ourselves, we always strive to deliver only the latest in online marketing strategies. Clients can also use other apps such as Get-an-Email or Social Connect instead of Get-a-Fan to combat cart abandonment."
About Kigurumi Shop
Kigurumi Shop is an online retailer of high quality and quirky Kigurumi with animal features – designed to draw attention in the crowd – and related attire and accessories. Kigurumi Shop stocks only the official SAZAC Kigurumi range. The company which is family owned, was established in 2015 and is based in Los Angeles, California.
https://kigurumi-shop.com/what-is-kigurumi.aspx
About ShopSocially
ShopSocially is a SaaS-based, social, referral and loyalty marketing platform that delivers up to 40% more revenue by enabling an increase in new customer acquisition, engagement, conversion rate and retention. More than 500 global brands are using ShopSocially to grow their business via proven strategies such as referral marketing, visual commerce, customer loyalty, social login, social gamification, customer Q&A and more.
ShopSocially platform offers a comprehensive suite of marketing solutions which eliminates the need to implement multiple, inconsistent solutions and delivers a measurable ROI. Our fully managed service option ensures no additional work for your marketing or IT team.
ShopSocially has won several awards and recognition's for its innovative technology. To learn more how ShopSocially can help grow your business, please contact us at (650) 701-7759 or at http://www.shopsocially.com/