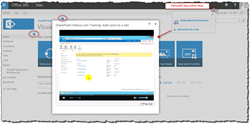 We responded to the need for an easier pathway to help with SharePoint tasks, so our developers brought performance support right into the user interface - VisualSP CEO, Asif Rehmani
Chicago, Illinois (PRWEB) February 11, 2016
VisualSP®, an innovator in providing in-context help functionality through the SharePoint ribbon, announced last week the company's most recent major release of the VisualSP Help System for SharePoint 2010, SharePoint 2013, and SharePoint Online (Office 365 edition).
The recent release, version 5.0.0.4, adds faster, more structured access to the help system's robust set of step-by-step help tutorials. Inline help is provided through tip sheets, enhanced screenshots, and videos. "We responded to the need for an easier pathway to help with SharePoint tasks," said VisualSP CEO Asif Rehmani, "so our developers brought performance support right onto the user interface."
When the add-on feature is enabled, customizable information icons appear on each page a user visits. The icons appear adjacent to site menus, fields, and tasks. Once clicked, the icons reveal a menu of tasks and learning tracks. Users can select the menu option for a task they wish to complete or to gain insight into SharePoint functionality. Users can enable or disable the VisualSP Inline Help feature at any time.
VisualSP, formerly SharePoint Videos, has been providing video training courses and training consultation to businesses that have deployed SharePoint on-premise or in the cloud since 2005. VisualSP has a roster of renowned Microsoft MVP and MCT expert trainers providing help from basic tasks to advanced SharePoint site development.
Rehmani extended the training that the company provided into a self-contained help system that enterprises can add to the SharePoint platform. "While SharePoint immersive training can be very beneficial, end users are often left frustrated after they have completed training, because they typically forget much of what they learned within a few days," he said.
In addition to the major upgrade, several maintenance releases have occurred, which have added the capability to disable inline help at the cloud app and farm hub levels, added anonymous access to help items, and fixed minor bugs.
For more information about the VisualSP Help System, visit http://www.visualsp.com.