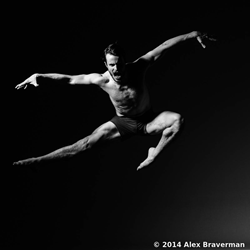 (My mentor) provided me with the information, forever pushing me to the new level of vision and technique.
New York, NY (PRWEB) February 08, 2016
Fine art photographer Alex Braverman has won the B&W Magazine Portfolio Award for Excellence in Dance Photography. A graduate of the New York Institute of Photography, Braverman predominantly works within the fine art, dance and cultural niche. Since completing his education with the online photography school, he has also gone on to win numerous additional awards from Popular Photography magazine. "My photography mentor was instrumental in everything," says Braverman. "He provided me with the information, forever pushing me to the new level of vision and technique."
A prevalent resource for black and white photography collectors, B&W is an international publication globally recognized for its compelling photographic community and competitive portfolio competitions. Braverman's winning image was part of a multi-shot series entitled Birds of Prey, photographed at the Lois Greenfield studio (located in Manhattan's Flatiron District) in November of 2014. The Birds of Prey set is featured in Alex's personal gallery as a subset of his ongoing 'Bodies in Motion' project.
Since graduating from NYIP's professional photography course, Alex has subsequently explored 8 different genres of camerawork, ranging from some unique fisheye shots to a European Heritage series. "I don't have typical days," he explains.
The winning image can be viewed online in the Music, Sports and Dance division of B&W's 2015 winners' gallery.
About the New York Institute of Photography
The New York Institute of Photography now offers nine great online photography courses. Founded in 1910, NYIP is the oldest and largest photography school in the world, having successfully trained thousands of photographers over more than 100 years. Located in the heart of the art capital of the world, New York City, NYIP brings high quality photography education straight to its students' doors. NYIP is owned and operated by Distance Education Co., LLC, which also operates the New York Institute of Art and Design, the premier online school for creative professionals.