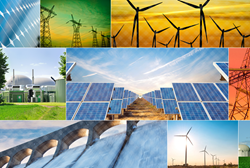 The combined solution brings together DERMS functions of forecasting, optimization and DER integration
(PRWEB UK) 5 February 2016
Smarter Grid Solutions is a market leader in Active Network Management (ANM) to manage and control the operation of DER, and Integral Analytics has widely-recognised expertise in grid edge portfolio optimization, ratepayer economics and long-term planning with DER. The collaboration allows, for the first time, Integral Analytics' productized, nodal intelligence to be used directly by Smarter Grid Solutions' real-time control systems, ensuring that least cost grid operation projections are realized in day to day operations.
The proposition has broad application across North America, and specifically meets the needs of the Distributed Systems Platforms (DSPs) being developed in New York state, and the DERMS-enabled systems planned in the Californian IOU's DRPs.
"We have always understood the important link between investment planning, interconnection processing and grid operations" said Bob Currie, CTO and Co-Founder at Smarter Grid Solutions. "The combination of our products in this new way is a unique opportunity for our Utility customers to deliver planning strategies using DER directly into operations, without compromising on the safe and reliable operation of the system."
Tom Osterhus, CEO of Integral Analytics, said "We are excited to team with Smarter Grid Solutions to deliver an integrated DERMS solution where distribution planning and circuit valuation methodologies merge to continually inform optimal DER dispatch and ensure reliable balance at the grid edge for all stakeholders. Utilities are demanding that grid intelligence be consistent for multiple purposes downstream to the nodal asset level...our partnership delivers on this objective."
Smarter Grid Solutions will be presenting the collaborative solution to interested Utilities at this year's DistribuTECH conference, in Orlando, 9-11th February, booth #1829.
About Smarter Grid Solutions
Smarter Grid Solutions provides products and consultancy services that enable distribution utilities and generation developers to integrate Distributed Energy Resources (DER). The company's world-leading Active Network Management (ANM) technology delivers a unique distributed energy resource management system (DERMS), that uses real-time functionality to manage and control the operation of DER and other grid edge devices. It is the only DERMS solution to feature fast-acting response, guaranteed time bounding, adequate fail safes and predictable operation. Smarter Grid Solutions' DERMS products are transforming the utilization and resiliency of the grid, and managing connected customers at greatly reduced cost, without compromising safety and security. The company supports customers worldwide from its offices in New York, London and Glasgow UK.
Smarter Grid Solutions was formed in 2008, originating from the world-renowned Institute for Energy and Environment at the University of Strathclyde. It established its offices in New York in 2013, and is now an active contributor to the development of the Smart Grid in many parts of North America.
About Integral Analytics
Integral Analytics (IA) is the 2015 Fierce SmartGridNews winner of best innovation in big data and analytics. Since 2005, dozens of domestic and international electric utilities have relied on IA software to plan, value, monitor, operate and capitalize distribution systems and smart grid programs. IA's products provide the industry's most advanced, innovative, and statistically-robust outcomes on which subsequent optimizations are enabled for scalable integration of nodal assets at the grid edge. IA is the leader in evaluating and optimizing least-cost DER, analysis of loads and generation on both a locational and temporal basis. IA is well known for software that calculates future costs and avoidable costs for utilities. DSMore, the company's first offering, remains popular with utilities and regulators. LoadSEER, IDROP and LoadScrubber software helps utilities optimize distribution plans and designs, and is rapidly growing in popularity, as the industry improves its understanding and appreciation of the complex world of DER integration and distributed least-cost planning. Integral Analytics optimizes DERs based on a least-cost Distributed Marginal Price (DMP) framework, mathematically assuring least cost outcomes.
More information at: Integralanalytics.com.