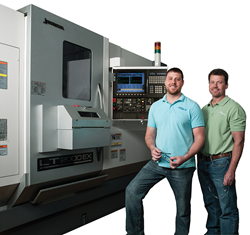 I really believe in the benefit of being able to get the API's and write our own apps. Now I see how much you can do with an Okuma.
Charlotte, NC (PRWEB) February 10, 2016
Okuma customer Precision Products, a manufacturer of precision machined parts for firearms manufacturers and various industries, has written a machine tool app that streamlines their cutting operations, while reducing operator error and scrapped parts.
Precision Products, a Licensed Firearms Manufacturer, machines more than 300 variations of shotgun parts. To manage such a large number of variations in cutting, they customized the functionality of the Okuma control on their LT2000 EX twin spindle turning center with a machine tool app that displays easy, touch screen selections to program parts. This new app minimizes the chance of operator error, reduces training time and increases shop floor efficiency by simplifying CNC machining complexities.
The open architecture of Okuma's OSP-P control allows users to customize operations to suit their unique machining needs. Adam Kauger, Project Manager, Precision Products, has no formal app development experience but was able to learn the skills required with some online training. Okuma supplied the API (application programming interface) to Kauger who then wrote the machine tool app. He allowed for numerous variations (such as different restriction sizes that get updated for each part), by writing macros for subprograms. "I really believe in the benefit of being able to get the API's and write our own apps. Now I see how much you can do with an Okuma," says Adam.
Precision's custom machine tool app has given them the ability to simplify operations and maximize efficiency in addition to ensuring the quality and precision of their parts. "It's a big time saver and also minimizes costly errors," says Tim Kauger, Precision's owner.
Okuma Apps put the power of improving part quality, reducing costs and increasing profitability in your hands. For more information on the Okuma App Store and to download apps visit https://www.myokuma.com/. For more information on Precision Products and other Okuma Testimonials visit http://www.okuma.com/testimonials.
About Okuma America Corporation
Okuma America Corporation is the U.S.-based sales and service affiliate of Okuma Corporation, a world leader in CNC (computer numeric control) machine tools, founded in 1898 in Nagoya, Japan. The company is the industry's only single-source provider, with the CNC machine, drive, motors, encoders, and spindle all manufactured by Okuma. The company also designs their own CNC controls to integrate seamlessly with each machine tool's functionality. In 2014 Okuma launched the Okuma App Store, the industry's only centralized online marketplace for machine tool apps and related content. Along with its extensive distribution network (largest in the Americas), and Partners in THINC, Okuma is committed to helping users gain competitive advantage through the open possibilities of machine tools, today and into the future. For more information, visit http://www.okuma.com or follow us on Facebook or Twitter @OkumaAmerica.
Precision Products
Precision Products Machine & Fab., Inc. was founded in 1990 and is located in Hazlehurst, Georgia. They specialize in manufacturing precision-machined parts. Backed by state-of-the-art CAD/CAM software, capabilities include CNC and conventional machining, some of which includes robotic work cells. Precision Products actively enforces a Quality Assurance Program to ensure the production of the highest quality products possible and to ensure continual process improvement. They take pride in providing competitive prices, quality products, unbeatable customer service, and strict confidentiality with customers. For more information visit http://www.precisionpro.com.