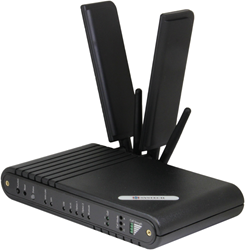 It is rewarding to experience that aha moment each time we demonstrate the simplicty of creating real IoT applications
San Diego, CA (PRWEB) February 08, 2016
Systech was recognized by a panel of industry experts as the provider with the "Best Overall IoT Solution". The Battle of the Platforms event was held in Fort Lauderdale, Florida, as part of IoT Evolution, an event that draws hundreds of individuals interested in IoT (the Internet of Things). This is Systech's third consecutive award over recent years, and Systech leads the industry with more awards than any other company from this event.
Although many people are familiar with the potential powerful economic and customer service benefits that IoT (Internet of Things) could bring to their market or business, it is often difficult to identify the exact right hardware or software solution to get that done. In an effort to allow companies to quickly learn about top IoT solution providers, TMC and Crossfire Media, organizers of the IoT Evolution event, brought solution providers into a large room with hundreds in attendance eager to learn more about IoT technology. Each solution provider was given 10 minutes to pitch to their solution. Later, a panel of judges composed of industry experts evaluated the pitches, and awarded four companies with category awards, and awarded a single top company, Systech Corporation, with the best overall IoT solution.
"Our Judges represent some of the most experienced analysts, carriers and enterprises in the industry," said Carl Ford, CEO, Crossfire Media, executive director of content, IoT Evolution. "The point of the Battle of the platforms is for buyers to learn the nuances of application development as well as hear of successful solutions. This event shows what is real and how to stay ahead of the curve." Judges included representatives from ABI Research, Machina Research, Stanley Black & Decker, Starwood Hotels, and Verizon Wireless.
Systech has simplified how IoT solutions are implemented – hardware and software. Systech introduced the SysLINK IoT gateway that can be configured off-the-shelf with optional hardware cards. The option cards provide connectivity to a wide variety of IoT sensors and actuators with interfaces such as cellular, Wi-Fi, Bluetooth, ZigBee, and Z-Wave.
On the software side, Systech introduced SysSCRIPT. Architected for ease of use, the power of IoT edge computing is now available for just about any application. IoT software can be developed by anybody, without the need of a software development team. This simplicity also provides a dramatic reduction in software development time.
"We are excited to share our solutions with VARs, system integrators, and OEMs," highlights Robert Lutz, Systech's Business Development Director. "It is rewarding to experience that aha moment each time we demonstrate the simplicity of creating real IoT applications. Often, the customer completes the Systech IoT demonstration on their own, with little outside assistance."
SysSCRIPT brings the power of "if this, then that" programming away from the cloud, and into the local gateway. This can eliminate unnecessary network delays, and provide application-specific functionality independent of the availability of network access to the cloud.
Video of the award-winning presentation will be available shortly. Meanwhile, video from previous IoT Evolution events and other demonstration videos are available at this link.
About Systech
Systech Corporation, established in 1981, is an industry leader in network conversion gateways, servers, and switches, supporting a wide variety of interfaces. Systech brings network connectivity to IP and non-IP based systems for a wide variety of applications including ATM, point-of-sale, vending, remote electronic signage, building automation and security, and remote monitoring. Additional information can be found at http://www.systech.com.