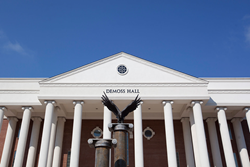 Lynchburg, Va. (PRWEB) February 04, 2016
Liberty University has moved up to the Doctoral Universities level in a recent listing from the Carnegie Foundation, placing it among only 335 universities in the country to receive the designation and further recognizing Liberty's commitment to academic excellence.
The Carnegie Classification of Institutions of Higher Education serves as a national framework for classifying colleges and universities, primarily for educational and research purposes. The listings shape how more than 4,660 post-secondary institutions across the country are viewed by independent analysts, government officials, and academic groups. U.S. News & World Report relies on the classifications for its annual "Best Colleges" ranking; it is expected that U.S. News will now list Liberty as a "national university" rather than a "regional university."
Carnegie classifies doctoral universities as institutions that award a minimum of 20 research/scholarship doctoral degrees, not including medical or law degrees. In 2013-2014 (the year used in the latest report), Liberty awarded nearly 800 doctoral degrees. (Read more about college classifications and Liberty's move in the Washington Post.)
President Jerry Falwell Jr. said the classification better reflects Liberty's academic reputation.
"Liberty University is very pleased with the change in its classification by Carnegie from the master's to the doctoral level. Liberty's academic leadership has steadily increased doctoral level programs as Liberty has become more of a national research-based institution of higher learning in recent years. The Provost and the faculty deserve the highest commendation."
Carnegie has classified Liberty as an R3 Doctoral University, described as having "moderate research activity."
As a fully accredited liberal arts university with an evangelical foundation, Liberty offers more than 500 programs of study, including 24 doctoral degree programs. Students can study on Liberty's residential campus, overlooking the Blue Ridge Mountains, or enjoy the flexibility and convenience of an online education program. With enrollment exceeding 100,000 students — 14,500 residential and over 95,000 online — Liberty remains the largest private, nonprofit four-year college in the country, the nation's fifth largest university, and the largest college in Virginia.
About Liberty University
Liberty University, founded in 1971, is the largest private, nonprofit university in the nation, the largest university in Virginia, and the largest Christian university in the world. Located near the Blue Ridge Mountains on more than 7,000 acres in Lynchburg, Va., Liberty offers more than 500 unique programs of study from the certificate to the doctoral level. More than 200 programs are offered online. Liberty's mission is to train Champions for Christ with the values, knowledge, and skills essential for impacting tomorrow's world.