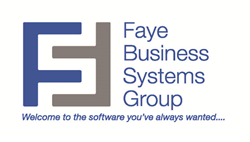 Woodland Hills, CA (PRWEB) February 05, 2016
Faye Business Systems Group today announced it has earned its Certified Sugar Instructor status with Sugar University, and will be offering the first of many Sugar Advanced Workflow Training sessions on February 23rd.
Visit http://fayebsg.com/sugarcrm-advanced-workflow-training/ to find out more information and to register for all upcoming classes.
"We're excited and proud to be welcomed by SugarCRM as an Authorized Sugar Training Provider," said FayeBSG CEO David Faye. "We look forward to offering a variety of training classes for Sugar, including the first ever Advanced Workflow Course later this month."
Sugar University is an educational resource for SugarCRM end-users and administrators. Sugar University offers online, self-paced training as well as personalized, instructor-led web-based learning sessions.
As an Authorized Training Provider for SugarCRM, FayeBSG has passed rigorous Sugar proficiency exams that approve the company as a CRM expert meeting the diverse CRM needs of organizations.
Attendees of the Sugar Advanced Workflow class offered by FayeBSG will learn how to work with Advanced Workflow to create process definitions, process business rules, process email templates, and how to manage running processes. Advanced Workflow is available in Sugar Enterprise 7.6 and beyond.
Upon completion of the Advanced Workflow training, Users will have all the tools necessary to help their organization get up to speed on using Sugar's Advance Workflows.
Visit http://fayebsg.com/sugarcrm-advanced-workflow-training/ to find out more information and to register for all upcoming classes.
About FayeBSG
Year after year, FayeBSG is recognized in the Sugar community for their breadth of SugarCRM Integration Add-On Products and custom software solutions, which include Sugar integrations with ERP software, credit card processing, project management, phone systems, and more.
An INC 5000 honoree and recognized by CIO Review as one of 20 most promising CRM and ERP solutions providers for 2015, FayeBSG uses SugarCRM, Sage 100, NetSuite, Act-On and a variety of custom software solutions to meet client needs. Services include software development, project management, packaged software implementations, custom software implementations, integration, consulting, training, and support. Faye Business Systems Group has completed hundreds of successful CRM projects, specializes in Sugar Integrations, and is one of Sugar's leading Global Elite Partners. For more information, call (818) 280-4820, email info(at)fayebsg(dot)com, or visit http://www.fayebsg.com. Connect with Faye Business Systems Group on LinkedIn, Facebook, Twitter or YouTube.
About SugarCRM
SugarCRM enables businesses to create extraordinary customer relationships with the most innovative, flexible and affordable customer relationship management (CRM) solution on the market. Unlike traditional CRM solutions that focus primarily on management and reporting, Sugar empowers the individual, coordinating the actions of customer-facing employees and equipping them with the right information at the right time to transform the customer experience. Based in Silicon Valley, SugarCRM is backed by Goldman Sachs, Draper Fisher Jurvetson, NEA and Walden International. More than 1.5 million individuals in over 120 countries rely on SugarCRM. To learn more visit SugarCRM or follow @SugarCRM.