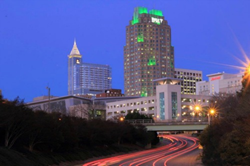 We recommend these five cities to our relocating clients who want to start a business because of their dynamic economies, business-friendly environments, and robust entrepreneur support services.
Libertyville, IL (PRWEB) February 05, 2016
Marian Schaffer, Principal and Founder of Southeast Discovery, a real estate consulting firm specializing in guiding Baby Boomers with their real estate needs in the niche markets of retirement relocation and second homes in the Southeast region, recently cited five cities in the southeastern U.S. that offer the most robust entrepreneurial opportunities for baby boomers who want to start a business in retirement.
"We've been helping baby boomers relocate to the Southeast for more than 10 years, and though many of our clients are 'retiring' from their previous career, a large number want to start a business in their new locale," said Schaffer. "Based on our research and our previous work with clients, there are five Southeastern cities we recommend that are known for their dynamic economies and business-friendly environments, and also offer the lifestyle attributes our clients are looking for."
Schaffer continued, "The factors that make these cities a good place to launch a business include a strong community of existing small businesses, a well-educated workforce, relatively low cost of living, affordable cost of doing business, and low unemployment rates, which points to a healthy local economy."
According to Schaffer, the following five Southeastern cities offer a welcoming environment for entrepreneurs:
Nashville, TN: "There are several factors that make Nashville attractive to business builders," said Schaffer. "The city's nonprofit Entrepreneur Center assists start-ups in many fields with mentorships and other resources. In addition to funding and other resources for new businesses, Nashville also benefits from being very affordable, offering low cost of living and affordable business costs, and Tennessee has no state tax."
Chattanooga, TN: "Chattanooga has an overall 'entrepreneurial attitude' that makes it a good place to launch a business," said Schaffer. "The personal-finance website WalletHub ranked Chattanooga No. 2 for access to resources, based on four factors: access to financing, office space affordability, employee availability and median annual income. The city features many business support organizations, including a thriving business incubator that's home to several dozen startups, and Gigabit-speed Internet service became available here in 2010, which is important to entrepreneurs."
Greensboro, NC: Located about two hours west of the thriving hub of Raleigh/Durham/Chapel Hill, Greensboro is North Carolina's third-largest city, and boasts a strong economy, a skilled workforce, and a competitive business environment. Its population is relatively young, with about 11.5% of its residents over the age of 65, and the city offers a wealth of programs and activities to assist businesses, including the Economic Development and Business Support (EDBS) Office.
Raleigh, NC: "We tell our clients interested in starting a tech-focused business to look at Raleigh," said Schaffer. The city has long been recognized as a major center for high-tech and biotech research; Raleigh's Research Triangle is a well-known complex of high tech companies, international corporations and public and private research facilities. The Research Triangle Regional Partnership (RTRP) is an organization that works closely with businesses, educational institutions and government organizations to foster innovation and collaboration, and there are three major universities in the area that place an emphasis on technology.
Greenville, SC: "We've long suggested Greenville to our relocating clients as a great place to live because of its numerous attractive lifestyle factors, such as mild year-round weather, plentiful outdoor activities, a thriving restaurant scene, numerous cultural offerings, and much more," said Schaffer. "But the city also benefits from a robust economy and an inviting pro-business climate, featuring corporate tax incentives, workforce development programs, and a flourishing network of business resources created to serve both new and existing business."
According to Schaffer, other promising southeastern locales for those who want to start a business include Memphis, TN; Atlanta, Augusta, and Alpharetta, GA; and Asheville and Wilmington, NC.
"It's exciting to see these Southeastern regions creating resources to attract, welcome and support entrepreneurs," Schaffer said. "And their vibrant economies also make these cities ideal for boomers embarking on second careers, and young professionals looking to build a business."
About Southeast Discovery
Since 2004, Southeast Discovery has been a trusted resource for candid information and insight on communities, developments, and general real estate in the Southeast. Through its highly-ranked web portal, newsletter and blog and its one-on-one work with clients, Southeast Discovery helps buyers actively looking for a retirement or second home in the Southeast navigate the process of identifying the right area and community for their needs. To learn more, visit http://www.southeastdiscovery.com/.