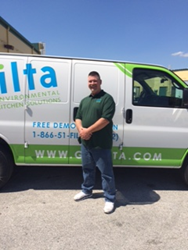 I love being a Franchise Owner and working with Filta.
Lancaster, PA (PRWEB) February 09, 2016
Filta Environmental Kitchen Solutions, the company that invented Fryer Management, provides service to commercial kitchens across the United States and around the world. The company recently opened a new location in Lancaster, PA. The franchised location is owned and operated by Frank Witman Jr., a resident of Lancaster, PA.
Frank has served 4 years in the United States Air Force, also has had a progressive and successful career as an Assistant chief and engineer with the Sadsburyville Fire Company. David has experience with fundraising and development, building and ground maintenance, and now adds Filta Franchise to his list of accomplishments.
The new Lancaster Franchise is growing quickly and is servicing accounts in the Lancaster, Ephrata, Elizabethtown, Denver, and Little Britain areas. The new location currently offers the FiltaFry service, which is Filta's proprietary mobile based cooking oil micro-filtration and vacuum based deep fryer cleaning service and the FiltaBio service which is waste oil recycling without the bin. When a commercial kitchen uses both services they can prolong the useful life of their cooking oil and eliminate the traditional waste bins and barrels that can cause spills and fines.
"I love being a Franchise Owner and working with Filta. It's nice to work with people, and meet new people. I'm glad I can help the environment in my county," said Frank Witman, Filta Franchise Owner.
For service inquiries in Lancaster and the surrounding areas, call 610-721-9278 or email frank.witman(at)gofilta(dot)com.
About Filta Environmental Kitchen Solutions
Established in the United Kingdom in 1996 and brought to the USA in 2002, Filta is the world's leader in commercial fryer and cooking oil management services and offers its services through a worldwide franchise network. Filta is dedicated to saving its client's money, creating a safer working environment, and providing customers with the tools to increase the quality of their product, all while preserving the environment. Filta services over 5,000 customers every week and has recycled over 1/2 of a billion pounds of oil and counting! http://www.gofilta.com