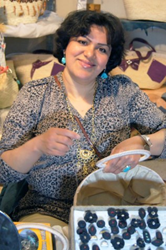 The 18th Microcredit Summit is a perfect platform to exchange knowledge, ideas, and experience and to promote financial inclusion. -- H.E. Abdulla S. Al Darmaki (Khalifa Fund)
Abu Dhabi (PRWEB) February 12, 2016
The Microcredit Summit Campaign and the Khalifa Fund for Enterprise Development today announced a strategic partnership for the 18th Microcredit Summit: Frontier Innovations in Financial Inclusion to be held in Abu Dhabi next month.
The 18th Microcredit Summit will gather global policy makers and microfinance experts to explore how microfinance services and other innovative financial inclusion strategies can create clear pathways to economic and social inclusion and for the betterment of the lives of the most vulnerable segments of society. The four-day conference will run from March 14th to the 17th and is co-organized by the Microcredit Summit Campaign and the Arab Gulf Programme for Development (AGFUND).
The Arab Monetary Fund (AMF) has signed up as a sponsor of this important event. Both Khalifa Fund and AMF will enrich the Summit agenda with their experience in developing sustainable economic growth in the MENA region. Khalifa Fund's expertise includes creating technical and financial programs such as the Sougha Initiative, which aims to enhance entrepreneurial and technical skills of Emirati artisans from across the UAE in partnership with key support partners.
H.E. Abdullah Saeed Al Darmaki, CEO of Khalifa Fund, said, "Our partnership with the Microcredit Summit Campaign falls under our strategic objectives of benefiting from different international expertise, enhancing capabilities, and creating a suitable environment for innovation in the region and responding to the funding requirements for small and medium enterprises."
"We work to strengthen the bonds of cooperation," Al Darmaki continued, "to support a culture of entrepreneurship, innovation and sustainable growth, which makes the 18th Microcredit Summit a perfect platform to exchange knowledge, ideas, and experience and to promote financial inclusion."
Al Darmaki also stressed on the fact that for the past eight years, Khalifa Fund has develop a number of microcredit programs such as "Khutwa" program, "Al Hasila," and a funding program in Egypt.
AMF will contribute valuable insight on national financial inclusion strategies that create the appropriate policies and regulatory frameworks promoting financial inclusion and contributing to social inclusion. H.E. Dr. Abdulrahman A. Al-Hamidi, director general chairman of AMF, stressed that the Summit represents an excellent opportunity to shed light on this important topic to understand the dimensions of improving financial inclusion to address the challenges of unemployment in the Arab countries. He noted that it represents a key priority for AMF as part of its strategy for the coming years.
Registration for the Summit is open. To register and learn more, please visit http://18microcreditsummit.org.
###
The Microcredit Summit Campaign (the "Campaign"), a project of RESULTS Educational Fund, is a global network of institutions and individuals involved in microfinance and is committed to expanding microfinance to the world's poorest families and helping them lift themselves out of extreme poverty. The Campaign convenes a broad array of actors involved with microfinance to promote best practices in the field, to stimulate the exchange of knowledge and to work towards alleviating world poverty through microfinance. http://www.microcreditsummit.org
The Khalifa Fund for Enterprise Development was launched in 2007 to help develop local enterprises in Abu Dhabi, with a total capital investment of AED 2 billion. In addition, the Fund aims to create a new generation of Emirati entrepreneurs by instilling and enriching the culture of investment amongst young people, as well as supporting and developing local small to medium-sized enterprises. Khalifa Fund provides integrated and comprehensive programs to meet the needs and requirements of investors seeking to establish or expand investments. http://www.khalifafund.ae
The Arab Monetary Fund was created in 1976 as part of the Arab League. The organization facilitates monetary cooperation, trade and financial market development, and sustainable growth in the region. Its 22 member states include Egypt, Iraq, Jordan, Lebanon, Morocco, Qatar, and the U.A.E. http://www.amf.org.ae