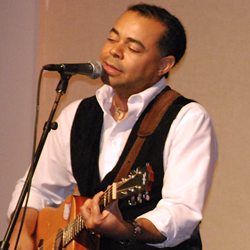 "I don't want to live this life 'cause this world is so unkind...Although I may try my best, I've still got cupid's arrows in my chest." -T.C Urquhart
Fort Lauderdale, Florida (PRWEB) February 09, 2016
Scribbling with a crayon, rocked by a broken heart and self-loathing, singer/songwriter T.C Urquhart intended the words jotted on a soiled napkin to be his final farewell to the world, a genuine suicide note which read:
"I don't want to live this life 'cause this world is so unkind...Although I may try my best, I've still got cupid's arrows in my chest."
Yet as more words flowed onto the napkin, a simple melody and chorus came to mind... T.C began to reconsider the heinous act for thinking he should first share this new song... and in the most unusual of ways, it became the music that saved his life...
The choice to make a morbid poem of his final thoughts was meant as a snarky reminder to associates and fellow musicians, T.C wished to be remembered for his untapped potential as a songwriter.
"The poem became something more than I'd expected which led to more undue concerns that no one would hear the symphonic-pop masterpiece trapped in me head," T.C said. "So, I made a solemn promise to the universe that first, I would produce this one last song before doing the awful deed... vanity wins again!"
Cupid's Arrows is a harmonious tribute to the artist's darkest time... however, it sounds surprisingly upbeat despite the forlorn thoughts of tragedy and lost love found with its origin. The perfect choice for anyone who enjoys love songs with inspiring power-pop melodies yet know the darkest side of any romance is always lurking, threatening to make things go horribly wrong... T.C's message is subtle and it won't depress you but if you listen carefully, you can still hear the pain in his voice exposing the truth of a broken heart.
Cupid's Arrows is available for download now on iTunes, Amazon and Google Play... just in time for Valentine's Day!
About T.C Urquhart
T.C Urquhart is an award-winning singer/songwriter based in Fort Lauderdale, Florida who performs & travels extensively. He was a frontman for the popular Miami-based rock group kNiption FiT and his first solo release for 2016 is "Cupid's Arrows" to be followed by an EP set for release later in the year.
Editor's Notes
Watch a music video on YouTube featuring "Cupid's Arrows"
https://youtu.be/9m-dj3Kf32c
Download "Cupid's Arrows" from iTunes, Google Play and Amazon here:
http:// http://www.amazon.com/gp/product/B01B8E6C08
http:// https://itunes.apple.com/us/album/cupids-arrows-single/id1080400064?uo=4
https://play.google.com/store/music/album/TC_Urquhart_Cupid_s_Arrows?id=Bohnubahnyzzzipq5an6p4dnnzi
Find T.C on Facebook
https://www.facebook.com/TcHQ7.82
Follow him on Twitter:
https://twitter.com/tcurquhart
Find him on Reverbnation:
https://www.reverbnation.com/TcHQ
Awards he has won include:
Best Adult Contemporary, Song Of The Year ~ March 2004
9th and 10th Great American Song Contest ~ Top Finalist
11th Unisong International Competition ~ 3rd place and Top 20 Finalist
15th Annual Billboard World Song Contest ~ Top 500
Most recently, a semi-finalist award was earned for Cupid's Arrows at http://songwritingcontest.songoftheyear.com/tcurquhart.htm