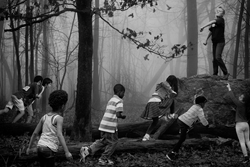 "We believe our partnership with Susan Spiritus is a step forward in fostering a shared vision where such an innovative approach to image making can impact the art world and those who seek to embrace the new." Deb Young
Montclair, NJ (PRWEB) February 09, 2016
The International Collaboration Project Artists Francisco Diaz and Deb Young have signed an exclusive world-wide representation agreement with the legendary Susan Spiritus and Susan Spiritus Gallery to represent their fine art photography.
Susan Spiritus noted, "I've known about the collaborative work between Deb Young and Frank Diaz for quite some time, but I never understood the logistics as to how they did what they do. Being in this business now for 40 years and being 'old school,' I guess I was hung up on the how to, the final product and the fact that it was a collaborative effort. How could one photograph be created by two people?
After all, for the first 40 years of my being in business, there were only a few contemporary photographers who had collaborated before; notably Patrick Nagatani and Andrée Tracey whom I represented in the late '70's and early '80's. But, Nagatani and Tracey were living in the US and collaborated in the studio together.
Deb Young (New Zealand) and her partner (in art), Francisco Diaz (USA) live on different continents, in different time zones and are thousands of miles apart. I could not grasp this and unfortunately let these factors get in the way of my seeing their work. But that was then, and this is now.... since, I have come to understand exactly how they do work and do so in 'real time.'
I have always indicated that I loved the fact that my gallery represented contemporary artists who were making unique creations and that the breadth of those I handled were each so varied and that few if any were duplicated. This has now led me to look more closely at work created by The International Collaboration Project.
Work by this creative duo fits right in to the philosophy of the Susan Spiritus Gallery for both the corporate and personal collectors, and I am happy to be taking on this duo of artists, Deb Young + Frank Diaz."
Francisco Diaz said, "We are thrilled to be represented by such an eminent gallerist as Susan Spiritus! Creating unique work that comes out of such a revolutionary concept as two artists working in real time, yet half a world apart is the cutting edge of this digital era. Susan has fully comprehended the potential of The International Collaboration Project and both Deb and I are excited to be teaming up with her."
Deb Young said, "We believe our partnership with Susan Spiritus is a step forward in fostering a shared vision where such an innovative approach to image making can impact the art world and those who seek to embrace the new. It's an incredible opportunity to progress Frank's and my creative ideals and inspirations with the support of such a knowledgeable professional as Susan."
Jeffrey Casale, a collector of The International Collaboration Project Artists' work, said, "The art is always talking to you, I never get tired of it. It compels one to look beyond the obvious because there is so much more there."
About The International Collaboration Project Artists
The idea that two artist photographers—one male, the other female—can work together, in real time while being separated by a vast ocean, is revolutionary — but such is the nature of this new exploration, The International Collaboration Project, with Francisco Diaz (USA) + Deb Young (New Zealand).
Out of a joyful embrace of the 21st century digital era came their unique vision for The International Collaboration Project: an inspired artistic effort wherein art photographers create works jointly from different corners of the globe, blending creative energies to design exceptional works as an example of true cooperation amongst global strangers in these difficult times.
These photo-montages have been described as "disturbingly beautiful" and their uniqueness has given rise to the designation "cinematic narrative photo-montages." This work has caught the attention of prestigious online photographic magazines like Lenscratch, Lens Culture, Virtual Artbeat, PH Magazine and Rfotofolio to name a few. The ICP has also been invited to exhibit at the Center for Fine Art Photography in Colorado, the KOLGA Awards in Tbilisi, Georgia, the 6TH EDITION OF THE POLLUX AWARDS — The 3rd Biennial of Fine Art and Documentary Photography exhibition in Malaga, Spain –where both Diaz + Young were chosen as Photographers of the Year with The International Collaboration Project work winning in 3 categories. In May of 2015 Diaz + Young/The International Collaboration Project had a solo exhibition of their "Playground Series" at Soho Photo Gallery in NYC.
All of The International Collaboration Project work is created under the concept of "cinematic narrative photo-montages" — a reliance on movie sensibilities in the development of both Diaz + Young's "narrative" and stylistic photographic approach. Another unique aspect of this work is that Young + Diaz integrate random photos that they snap to form the illusion of one cohesive image. This montaging of random, unrelated photos to give the illusion of a single snap allows Young + Diaz to raise the question of what is reality and to discuss the idea that our world is a fiction created by the limitations of our perceptions. The uniqueness of this collaboration is under scored by their working process — though Young + Diaz live over 8000 miles apart—he in the USA and she in New Zealand—they work digitally in real time, on each piece and have developed a way to set up their shots together by being able to see remotely through each other's cameras! http://www.diaz-young.com
About Susan Spiritus Gallery
Founded in 1976, as one of the first commercial venues devoted exclusively to contemporary fine art photography, the Susan Spiritus Gallery (susanspiritusgallery.com) remains focused on its commitment to feature and support the works of mid-career and emerging photographic artists.
During the first twenty years (1976-1996) the gallery mounted monthly one-person exhibitions and summer thematic group shows featuring many artists who were given their first public exposure. In addition, the gallery published a number of artist portfolios and sponsored a photographic symposium, "My Teacher/Myself".
In 1996 the gallery moved and elected to function as a private dealer and consultant. Since then, Susan Spiritus has focused her efforts working closely with collectors, large multinational corporations, hospitals, legal firms, and universities to assist them in creating a special environment that enhances their interior space.
The breath of the contemporary photographic work which the gallery represents includes work in the traditional black and white medium; color photography; hand painted and platinum photographic prints, and with the onset and acceptance of digital imagery, many of the gallery's artists are now capable of making large prints to accommodate the large interior spaces that many corporate offices have.
A selection of artists represented by the gallery include Cara Barer, Roman Loranc, Camille Seaman, George Tice, Hiroshi Watanabe, Adrian Davis, David Burdeny, Julie Sample, Dave Anderson, William Neill, Charles Cramer, Seung Hoon Park, Hengki Koentjoro and many others whose names and work can be viewed at the gallery's website, susanspiritusgallery.com
In previous years Susan Spiritus Gallery has been involved in the participation of local art fairs, including photoLA, Los Angeles Art Show, Festival of Books, The San Francisco Art Fair and the BTB International Contemporary Art Fair in San Diego. In 2016, she will participate in Los Angeles's prestigious art fair, Classic Photographs Los Angeles.
She has also reviewed portfolios for Critical Mass online, Review LA & Santa Fe, Photolucida, PhotoNola, Palm Springs Photo Festival and MOPLA's Fresh Look, in addition to serving as a photography juror for the Orange County Fair. Susan Spiritus has written articles on photography for Rfotofolio, Don't Take Pictures, Fraction Magazine, Adoir Nor Magazine, and several essays for The Center For Fine Art Photography for whom she has also served as a juror for several of their submissions.
For more information, contact Susan Spiritus, Susan Spiritus Gallery, Newport Beach, CA 92660, 714.754.1286 or see her online at http://www.susanspiritusgallery.com
Agency Contact: Sherry Frazier
Frazier Public Relations
(703) 431-7895 Phone
SherryFrazier(at)FrazierPublicRelations(dot)com