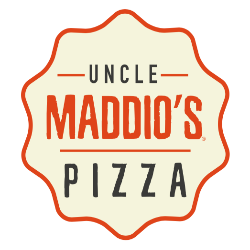 "This is going to be big year for the brand as we open restaurants across Florida in 2016," said Matt Andrew, Uncle Maddio's CEO.
Tallahassee, FL (PRWEB) February 06, 2016
Tallahassee pizza lovers now have a second location to enjoy their favorite Uncle Maddio's Pizza. The popular create-your-own fast-casual pizza franchise opens a new restaurant located at 1435 E. Lafayette Street, Suite 101 in Tally Village across from Governor's Square Mall on Feb. 5.
To celebrate, Uncle Maddio's will host a grand opening party on Saturday, Feb. 6 and Sunday, Feb.7. The restaurant will serve free pizza on Saturday Feb. 6 to guests in line from 11 a.m. to 2 p.m. On Sunday, kids will eat free from 11 a.m. to 2 p.m. with the purchase of an entrée and a drink. During both parties, there will be face painting, a balloon artist and bounce house for the kids to enjoy. Local radio station 103.1 The Wolf will also be on-hand to provide music and entertainment. All weekend long, Uncle Maddio's will accept $1 donations which will go to the Leukemia and Lymphoma Foundation.
Uncle Maddio's is a next generation pizza restaurant that lets guests build their own pizza exactly how they want it. The pizza is cooked in fast baked ovens and served to their tables in about six minutes. Guests choose from one of three crusts, including a delicious gluten-free option, and 48 toppings, including six sauces, 27 vegetables and 15 meats. Everything is fresh, from the pizza dough and sauce that's made in-store each day to the wide variety of veggies. For guests looking to expand their pizza horizons, Uncle Maddio's also offers signature pizzas ranging from the Spicy Italian to Portobello Pesto. Create-your-own salads and toasted Foldwich ™ sandwiches round out the Italian-inspired menu. The restaurant also offers a selection of craft beers and wine.
"I'm committed to making Uncle Maddio's the top pizza restaurant in Tallahassee," said Michael Holmes, Uncle Maddio's franchisee. "As we open new locations across the city, my goal is to introduce more people to the concept and make it convenient to get delicious, homemade pizza with fresh ingredients no matter where you are in Tallahassee."
Holmes is an experienced Uncle Maddio's franchisee. He opened the first Tallahassee location at 3122 Mahan Dr. over two years ago. He is also developing the Orlando market and will open his first of three Orlando locations in the spring of 2016, making him one of the fastest growing Uncle Maddio's franchisees in Florida. The Orlando restaurant will open in the Waterford Lakes Town Center.
"This is going to be big year for the brand as we open restaurants across Florida in 2016," said Matt Andrew, Uncle Maddio's CEO. "Michael is building a fantastic franchise business in the state and he will be a key partner as we expand our Florida footprint. Michael knocked it out of the park with his first Tallahassee restaurant and we anticipate him to do the same with the new location."
Since launching its aggressive growth plan in 2008, Uncle Maddio's has signed franchise agreements with 65 different entities in 19 states. Many of Uncle Maddio's franchisees have previous multi-unit experience with Jimmy John's, Firehouse Subs, Dairy Queen, McDonald's, Burger King, Krystal, Papa John's, Domino's and Golden Corral. Uncle Maddio's is on track to have 250 restaurants open in five years with 1,000 units in development. Recently, Uncle Maddio's received significant investments from longtime restaurant entrepreneurs S&S Group and Atlanta lawyer and businessman Rutherford Seydel.
For information on Uncle Maddio's Pizza, visit http://www.unclemaddios.com. Interested franchisees can visit unclemaddiosfranchise.com or contact Jocelyn Blain at franchising(at)unclemaddios(dot)com.
About Uncle Maddio's Pizza With more than 1,350 Pizza Makers making more than 5,000,000 pizzas a year, Uncle Maddio's Pizza is category leader of the create-your-own, fast casual pizza restaurants. Operating 45 locations in 14 states, Uncle Maddio's has more than 250 units in development. Uncle Maddio's pizzas are customizable, made-to-order, and served up fast for about $8. With four pizza sizes, three types of crusts (including gluten free), six sauces and 48 fresh toppings, Uncle Maddio's has the freshest and largest menu in the category. The restaurant's unique fast bake ovens offer the most throughput in the industry and can produce 200 pizzas per hour. Uncle Maddio's also serves Foldwiches™ and salads. Uncle Maddio's 'Served with Love' philosophy and restaurant is for everyone - children and families, college students, the young and the young at heart - and includes extensive community involvement. Based in Atlanta, the Uncle Maddio's management team has 50 years combined experienced in the fast casual category. http://www.unclemaddios.com
Click here for Tallahassee photos: Uncle Maddio's Tallahassee Photos
Click here for food photos: Uncle Maddio's Photos