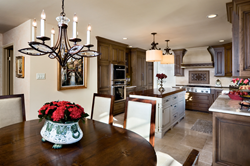 Usually, response to designs are 'yes' or 'no.' But my goal every time is to get a 'wow'.
Philadelphia, PA (PRWEB) February 08, 2016
Elegant Interior Designs, a commercial and residential design firm in Ambler, Pennsylvania, has won the Contractor of the Year (CotY) Meritorious Award for Kitchen Design/Remodel, from the Bucks-Montgomery Chapter of the National Association of Remodeling Industry (NARI).
Pamela Kofsky, president, was recognized for a kitchen renovation in the budget category of $100,001-$150,000. The same project also earned her a Green Project Recognition from NARI.
The CotY Awards are judged by industry experts based on Before and After photographs and a project description. Judging takes into consideration problem solving, functionality, aesthetics, craftsmanship, innovation, degree of difficulty, and entry presentation.
"It is always wonderful to be recognized for my work by others in the industry, but the greatest satisfaction is the reaction I get from clients when I bring their visions to life," says Kofsky. "Usually, response to designs are 'yes' or 'no.' But my goal every time is to get a 'wow'."
Kofsky's kitchen project sought to resolve several problems that rendered it less-than-functional for a gourmet chef. The Montgomery County kitchen had dark food prep spaces, a small cook top hemmed in by the double ovens on one side, insufficient ventilation, and a cluttered, wire-rack pantry. Per the client's wish list, Kofsky incorporated natural materials, rich wood cabinetry, intricate moldings, and a variety of lighting, along with a travertine floor and backsplash to deliver a utilitarian space with a Tuscan flare. The result was a much more organized, efficient space, with ample room for a variety of gourmet appliances, including an in-drawer microwave oven.
It was also an environmentally friendly one. NARI's Green Project Recognition Program calls attention to the sustainable and eco-friendly remodeling practices of association members. Elegant Interior Designs' project was recognized for elements including site design, home performance, insulation and air sealing, lighting, material selection and more.
"The homeowner's goal was to not just create a pleasant, functional kitchen, but to make it eco-friendly, and, in the process, save money. So that was a big part of the design. It's nice that NARI acknowledged that element as well," says Kofsky.
Even before considering energy-efficient features, kitchen remodels are dollars well-spent, according to research. Nationally, even a minor kitchen remodel can return 79.3 percent of the project cost when the home is sold, according to a Remodeling Magazine 2015 survey. That's a far greater return on investment than a bathroom makeover (70 percent return).
The National Association of the Remodeling Industry (NARI) is the premier association of remodeling professionals and industry experts dedicated to advancing the professionalism of the remodeling industry and educating the public on the benefits of using a qualified professional. NARI members follow a strict code of ethics with high standards of honesty, integrity and responsibility. For more information, visit http://www.nari.org
Elegant Interior Designs is an award-winning, full-service interior design firm serving both residential and commercial clients in the Main Line and Greater Philadelphia area. Pamela Kofsky, founder and principal designer, works with a full staff of sub-contractors to deliver beautiful custom designed products that will transform any home, office or workspace. For more information, visit http://www.elegantinteriordesigns.com.