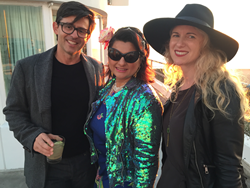 The webcam's million view milestone from a global audience showcases the best Santa Monica has to offer - amazing sunsets from Hotel Shangri-la, a beacon of Art Deco elegance
Santa Monica, CA (PRWEB) February 08, 2016
Santa Monica's Hotel Shangri-la is the quintessential escape to heaven on earth found at the edge of the Pacific Ocean and home to Explore.org's live Santa Monica Beach webcam. Operating 24/7, anyone around the world can watch daily sunsets and escape to paradise without leaving home. Hosted by Explore.org, invited VIP guests celebrated the millionth view milestone with yet another magnificent sunset cocktail reception from the Penthouse balconies.
"We could not have asked for a more perfect evening with another amazing sunset overlooking the Pacific," said Tom Pollak, Explore.org executive producer. "From high atop the Hotel Shangri-la rooftop, it was a celebration with friends and supporters as our live webcam topped the million-mile viewing mark by visitors from around the globe."
Santa Monica's 310 days of sunshine a year and its reputation for some of the greatest sunsets attract visitors from around for panoramic views that span 180 degrees of the Pacific Ocean coastline. Reception guests snapped photos of the sights and sunset and instantly shared them on social media.
The Santa Monica Beach webcam is hosted atop the Hotel Shangri-la roof and operated by Explore.org, a multimedia organization where people share thoughts, engage in dialogue, view and email films and photographs, and embed their favorites on blogs and social networking sites. Funding is provided by the Annenberg Foundation.
"The webcam's million view milestone from a global audience showcases the best Santa Monica and Southern California have to offer from the hotel that is a beacon of Art Deco elegance," said Hotel Shangri-la owner Tamie Adaya. "Watching the waves on the shores of the Pacific as the sun slowly drops into the ocean gets our guests excited about their future visits to the hotel for business or pleasure."
About Hotel Shangri-la
The original and urbane Hotel Shangri-la in Santa Monica is anything but ordinary and a member of Small Luxury Hotels of the World. Overlooking the Pacific since 1939, the hotel is a striking beacon of Art Deco elegance, a chronicle of the golden era of Hollywood and a quintessential nexus of culture. Hidden away on a high Santa Monica bluff overlooking the ocean and historic Santa Monica Pier, this timeless luxury boutique hotel promises guests their own personal Shangrila. Guests enjoy brilliant views of the Pacific Ocean, a celebrated history and a cultural connection during their stay. In the U.S., for toll-free room reservations only, please call (800) 345-STAY (7829) or for more information, visit http://www.Shangrila-Hotel.com.