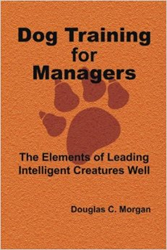 Whether a pet or a business owner, the philosophies and concepts of this book can help make for a better experience in both
SAN FRANCISCO (PRWEB) February 08, 2016
Leadership skills can be universally applied in all aspects of life, so the more practice one gets the better they can become.
This is the core concept of Douglas Morgan's new book, "Dog Training for Managers: The Elements of Leading Intelligent Creatures Well." Morgan evolved his early management approaches that were based on technical and project management skills to develop a stronger leadership philosophy based on motivating people to want to do what was needed in as self-directed a manner as possible. He was able to develop these philosophies through years as a senior executive with hundreds of employees under his care in both Fortune 100 and more entrepreneurial enterprises, including 14 years as the CEO of a management consulting and business services company.
"I have had years of experience managing small and large teams in professional settings," Morgan said. "I am also a dog lover and found that much of what I used in the workplace crossed over incredibly well to leading my canine companions. Moreover, as I observed the results of effective dog training approaches, I could not help but be impressed with how this simpler environment provided clarity to the nuanced effects of motivation and leadership."
Written as a textbook for experienced managers for training compatible, good-natured pets, "Dog Training for Managers" offers a three-part guide providing insights into the key foundations of leadership, practical applications of managerial methods and discussions into advanced leadership challenges. Consistently applying the principals promoted through Morgan's lessons can bolster managerial skills with pets as well as with people in the workplace, thereby making for a stronger leader in all aspects of life.
"Whether a pet or a business owner, the philosophies and concepts of this book can help make for a better experience in both," Morgan said. "Dogs and people are surprisingly similar, which may be why they're man's best friend. As such, we can learn to lead them in a similar way."
"Dog Training for Managers"
By: Douglas C. Morgan
SC-ISBN: 978-1-5049-1909-8
SC-Retail price: $19.95
Available at barnesandnoble.com, amazon.com and
About the author
Douglas C. Morgan is recently retired after working as president and CEO of XBC, Inc. for 14 years. Most of his experience is in the information technology field working for large-scale companies with multi-million/billion dollar annual revenues. He has also spent many years raising and training dogs of many varieties. He currently works as an author and loves spending time with his canine companions in San Francisco.
**FOR IMMEDIATE RELEASE**
EDITORS: For review copies or interview requests, contact:
Spencer Hotz | 317.602.7137| shotz(at)bohlsengroup(dot)com
(When requesting a review copy, please provide street address.)