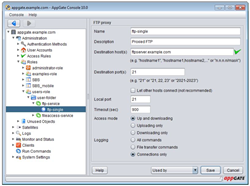 "Today's threat landscape demands that enterprises look beyond securing the perimeter. Cryptzone's innovative approach to network security, with solutions including the award-winning AppGate, change the way companies think about access control."
Waltham, MA (PRWEB) February 09, 2016
Cryptzone is pleased to announce that AppGate, a dynamic access management solution that protects thousands of users every day, is a Best NAC (Network Access Control) Solution finalist in the SC Magazine 2016 Trust Awards.
"It's an honor to be a finalist for the Trust Awards that identify the best solutions in the information security marketplace," said Barry Field, CEO of Cryptzone. "Today's threat landscape demands that enterprises look beyond securing the perimeter. Cryptzone's innovative approach to network security, with solutions including the award-winning AppGate, change the way companies think about access control."
Each year, the SC Magazine Trust Awards honor the most outstanding contributions in the information security industry. They celebrate the achievements of IT security pros in the trenches, the innovations happening in the vendor and service provider communities, and the passionate work of government, commercial and nonprofits striving to amplify the importance of the security industry.
Cryptzone AppGate is a comprehensive access control solution that provides unified access control at a granular level to applications, services and infrastructure regardless of location, whether on-premises or in the cloud. By making the network essentially 'invisible,' cloaking the nature of the full infrastructure and only granting visibility and access to the applications and services that users need to do their job, enterprises can provide access to anyone, anywhere at any time with the confidence and trust that critical information stays in the right hands.
Unlike traditional SSL-VPNs, Next Generation Firewalls and Network Access Control solutions that provide a binary view of access control, require extensive management of policies/firewall rules and tend to still grant overly permissive access to the network, Cryptzone AppGate enables enterprise agility and flexibility to adapt to the dynamic demands of the workforce, customers and the business to be competitive on a global scale. AppGate provides real-time access on a need-to-know basis and enables a unified way to control access while maintaining a tight security profile.
Read more about the awards: see how AppGate works.
About Cryptzone
Cryptzone secures the enterprise with dynamic, context-aware security solutions that protect critical services, applications and content from internal and external threats. For over a decade, enterprises have turned to Cryptzone to galvanize their Cloud and network security with responsive protection and access intelligence. More than 450 public sector and enterprise customers, including some of the leading names in technology, manufacturing and consumer products, trust Cryptzone to keep their data and applications secure. For more information, go to http://www.cryptzone.com or follow us @Cryptzone.
Media Contacts
Jessica Ann Morris
ZAG Communications for Cryptzone
+1.781.608.0499
jessica(at)zagcommunications(dot)com