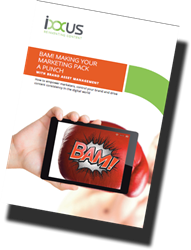 (PRWEB UK) 17 February 2016
Marketers and brand managers should turn to enterprise content management technologies in order to control global brands, according to a 20 page marketing whitepaper published this week.
The paper, which is freely available through the Ixxus website, investigates the impact of digital upon marketing workflows. There is a particular emphasis on the new challenges faced by the modern marketer and how these are being met in the marketplace, including case studies on some of the world's largest brands, including FOX Broadcasting and Penguin Random House.
The whitepaper demonstrates how to:

Maintain brand consistency at a global level, while managing different messaging and languages across multiple markets
Facilitate collaboration between designs, marketers and third-party contributors - while protecting your intellectual property
Feed customer insight back into development and iteration of materials, making your marketing more tailored and responsive
Make automated, multi-channel parallel publishing a reality
Trial new content marketing approaches in an agile, low risk, 'fail fast' way
Eliminate repurchasing and lost or undiscoverable assets
Guard against accidental release of unapproved materials
"Increasingly, modern marketers and creatives are part of a new pool of digital natives, who are used to intuitive, 'Facebook-style' interfaces and functionality," said Natalie Guest, marketing manager. "Coming into a world of outmoded systems and old technologies can hinder them rather than help, running the risk of leaving an organization's brand static and stagnant."
"While many marketing professionals have adapted readily to the speed of change, the same cannot be said for the technology and systems which they use to create, manage and disseminate their branded materials," said Andrew Robinson, senior consultant at Ixxus, "This whitepaper examines some of the ways in which a brand management solution can be used to support and empower marketing processes."
The free brand management whitepaper can be downloaded here: http://www.ixxus.com/whitepapers/bam-make-marketing-pack-a-punch-with-brand-asset-management/
About Ixxus
Ixxus is a leading global provider of solutions that reinvent the way organizations work with content to drive new revenues, speed time to market and enhance business agility. We deliver award-winning, collaborative content solutions that accelerate digital transformation and create competitive advantage.
We work with renowned brands across all sectors, including Wiley, Pearson, FOX, Oxford University Press and Amnesty International.
Our unique expertise in storage, search, content modeling, editorial and distribution is applicable to all those who wish to maximize the value of their digital assets.