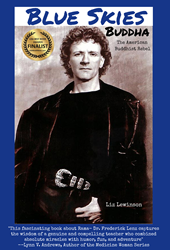 Rama was a 'rebel' in the sense that he pushed back on commonplace limitations and rules and revived original, enlightenment-based teachings.
San Antonio, TX (PRWEB) February 09, 2016
Mystic Buddha Publishing House today announced that Blue Skies Buddha: The American Buddhist Rebel, the acclaimed, award-winning biography of the American Buddhist teacher Rama – Dr. Frederick Lenz, has been re-published as a second edition with new cover art, sub-title, and review quotes from inter-faith ministers and teachers.
Blue Skies Buddha tells the true story of the journey undertaken by a rebellious American teen who is told that the teachings of an ancient Tibetan Buddhist order are in his hands, and it is his job to share them with millions of people.
Roger Cantu, Editor in Chief of Mystic Buddha Publishing House, states, "The new cover art and subtitle for Blue Skies Buddha: The American Buddhist Rebel reflects our interest in accurately representing this fascinating biography and highlighting the ways in which it is completely different than other books on Buddhist teachers. We think readers will enjoy the new review quotes from a range of teachers of all faiths."
"When people of different faiths and backgrounds read Blue Skies Buddha," says author Liz Lewinson, "the stories and feelings resonate with them. The new cover design and subtitle reflect who Rama was – a 'rebel' in the sense that he pushed back on commonplace limitations and rules and revived the original, enlightenment-based teachings."
Blue Skies Buddha was selected as a Finalist by USA Book News Best Books of 2015 in both the Biography and Spirituality: General categories. It has achieved #1 bestseller status on Amazon Kindle in the category of Buddhist biography.
Blue Skies Buddha is currently available on Amazon, Barnes & Noble, and bookstores worldwide.
Sample reviews:
"A vivid account of Liz Lewinson's personal relationship with the dynamic contemporary yogi, Rama. Born Frederick P. Lenz, this elusive young man leaps off the pages of her book, showing that magic and enlightenment are available to everyone, right here, right now. She shares the twists and turns of his remarkable journey with warmth, detail, and openness. This book sheds new light on an untold chapter of American Buddhism." -- Judith Simmer-Brown, Professor of Religious Studies, Naropa University
"Blue Skies Buddha will take you back to your first moments of bliss in pursuit of higher consciousness. Remember, and smile. Remember, and renew your passion for the present moment of power." -- Rev. Linda Martella-Whitsett, Unity Church of San Antonio
"Through interviews, quotes, and personal experiences, Liz Lewinson takes you on an epic journey, a hero's adventure of wonder, impossible odds, self-discovery, and like many great tales, full of love…I studied with Rama in the 90's. Through his teachings and his ultimate sacrifice, I came to understand more deeply Rama, Christ and the enlightenment connection they share(d). Enlightenment is absolute pure love. 'It always protects, always trusts, always hopes, always perseveres. Love never fails.'" (1 Corinthians 13:7) -- Rev. Mary-Rose Engle, Interfaith Minister
For further information on Blue Skies Buddha, or to interview the author, contact info(at)mysticbuddha(dot)com or visit http://www.blueskiesbuddha.com.