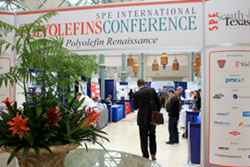 "The Industry is BOOMING" Nick Vafiadis, Senior Director, IHS
Houston, Texas (PRWEB) February 10, 2016
The Society of Plastics Engineers (SPE) International Polyolefins Conference announces Keynote Speakers for the 2016 conference. Abundant and cheap natural gas from Shale Gas Fracking has transformed the Polyolefins Industry in the USA and has created new opportunities and new investments. Seven Keynote Speakers and 77 Technical Presenters will discuss the various aspects of what is happening in the polyolefins industry around the world and what is new. Keynote Speakers include:

Nick Vafiadis, Global Business Lead: Polyolefins and Plastics, IHS, "Global Polyethylene: Issues and Trends"
Ajay Shah, President-Polymer & Cracker, Reliance Industries, " Overview of Polyolefin Industry - Asia/India"
Randall Wu, VP Marketing and Sales, INEOS, "Polyolefins Technology for the New Millennium"
Jinliang Qiao, Vice President, Sinopec, "Recent Development of Polyolefin Technology"
Maurits van Tol, Vice President, Borealis, "Innovation as Growth Driver - a European Perspective"
James Ray, Senior Consultant, PE and PP Market Update, ICIS, "PE and PP Market Update"
David Jackson, Senior Research Technical Leader, KC, "Polyolefins in Nonwovens: Development History and Future Needs"
The Conference will take place at Hilton Houston North Hotel (12400 Greenspoint Drive) in Houston, Texas on February 21-24, 2016. The SPE International Polyolefins Conference is the largest polymer conference in the world dedicated to Polyolefins (Polyethylene, Polypropylene, and copolymers). It is the best place in the Industry for suppliers and customers to meet and to learn about new developments and trends in the Polyolefin Industry. The theme this year is "Global Interdependence". Over 650 technical experts and business professionals are anticipated, attracted to the conference by 65 exhibitor booths, 84 papers, a Sunday afternoon Tutorial on "Polyolefin Technology and Applications", two evening networking receptions, and a Student Poster Competition. Fourteen sessions will cover a wide range of topics and applications :
Current Trends in Markets, Technology and Investments (Plenary)
Innovation (Strategies and Case Studies)
Catalyst and Process Advances in Polyolefins
Advances in Polyolefin Stabilization and Modifiers
Polymer Testing and Characterization
Sustainability and Polyolefins
Flexible Packaging
Polyolefins in Automotive
Fibers and Nonwovens
Logistics and Business Systems
Foams and Light-weighting
Building and Construction
To learn more and register for the 2016 SPE International Polyolefins Conference, go to:
http://www.spe-stx.org/conference.php
To view keynote talks from the 2015 SPE International Polyolefins Conference go to:
http://www.riversidetech.com/2015-SPE/vidindex-plenary-2015.html
The SPE International Polyolefins Conference has been in existence for 41 years and has been organized by the South Texas SPE Section in Houston, Texas. Over 80% of the South Texas Section profits from the Conference go to support students and polymer programs at 8 selected Universities that have polymer programs and SPE student chapters. The South Texas Section ( http://www.spe-stx.org ) is part of the International Society of Plastics Engineers ( http://www.4spe.org ) whose charter it to promote knowledge, technology, and the use of plastics. The Society of Plastics Engineers is home to nearly 20,000 plastics professionals in more than 70 countries around the world. SPE is the "go to" resource for plastics technical information.