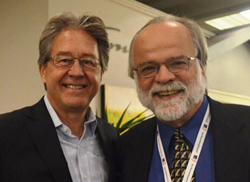 Parents and educators are both struggling with how best to balance and incorporate technology into early learning.
PASADENA, Calif. (PRWEB) February 15, 2016
On the weekend of February 4-6, 2016, over 600 early childhood practitioners, researchers, business leaders, policymakers, and trusted educators converged at the Pasadena Hilton for the 5th annual Early Childhood Science, Technology, Engineering, and Mathematics (ECSTEM) Conference. The Children's Center at Caltech in collaboration with THINK Together hosted the event which focused on increasing awareness of introducing Science, Technology, Engineering, and Mathematics (STEM) education in early childhood (birth through eight years).
Excitement filled the room as early childhood education supporters mingled and gathered in the International Ballroom in Pasadena for the kick-off evening of one of the largest ECSTEM Conferences in the country. Susan Wood, Executive Director of the Children's Center at Caltech and Tiffany Alva, Director of Early Literacy and Math Program for THINK Together, welcomed the crowd with enthusiasm and thankfulness. Russell Shilling, PhD, the Executive Director of STEM at the U.S. Department of Education, gave an impactful opening address, followed by a well-received two-hour panel discussion of the appropriate age to introduce technology to children, and the misconception of technology replacing the educator and parents.
Friday and Saturday's highlights of the conference included workshops: "Using Technology to Enhance Children's Learning," "Exploring Engineering Possibilities," "Immersing K-2 Students in STEM with the Support of iPads," "Cooking with Children," "Supporting Dual Language Learners Using STEM Learning," and "Coding Skills in Preschool."
"Parents and educators are both struggling with how best to balance and incorporate technology into early learning," said Randy Barth, CEO and Founder of THINK Together. "Just as we have grappled with television through the years, we must learn from each other how to integrate technology as a useful tool."
Major conference participants included Dr. Susan Hackwood, PhD, the Executive Director of the California Council on Science and Technology (CCST), Sacramento, CA; Dr. Chip Donohue, PhD, Dean of Distance Learning and Continuing Education and Director of the Technology in Early Childhood (TEC) Center at Erikson Institute in Chicago; Peggy Ashbrook, early childhood science teacher, and author of Science is Simple (2003, Gryphon House); Kafi D. Blumenfield, first executive director of the Discovery Cube Los Angeles; Carrie Rothstein-Fisch, PhD, co-coordinator of the MA in Early Childhood Education and Professor in the Department of Educational Psychology and Counseling at California State University Northridge.
For more information on the 5th Annual Early Childhood STEM Conference and the partnership with The Children's Center at Caltech and THINK Together, visit http://www.ecstem.org.
About THINK Together
THINK Together is a nonprofit organization collaborating with communities, parents, teachers, administrators and other stakeholders to help transform and galvanize the K-12 educational system, creating excellence and equity for all kids. THINK Together is California's largest provider of Expanded Learning Time programs. Through its affiliate, Principal's Exchange, THINK Together also provides research, professional development and consulting to underserved schools. Combined, THINK Together and Principal's Exchange serve over 150,000 students at more than 400 locations across more than 45 school districts from Silicon Valley to San Diego. Partnering with school administrators and teachers, THINK Together's dedicated team of more than 2,500 employees are helping students statewide reach their full potential. THINK is an acronym: Teaching, Helping, Inspiring & Nurturing Kids. For more information, call (888) 485-THINK or visit http://www.THINKtogether.org.
###