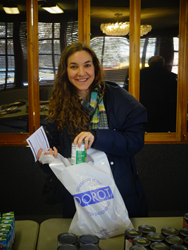 New York (PRWEB) February 09, 2016
On the last day of January, over 600 volunteers delivered winter care packages to more than 550 seniors located in Manhattan and Westchester. The volunteer effort was coordinated by DOROT, a New York based non-profit dedicated to alleviating social isolation among older adults.
Seniors received packages filled with winter staples like: soup, tea, cookies, chocolate, fruit and knit gloves. In addition to delivering the care package, volunteers also spent an hour socializing with the seniors and making sure they had everything they needed for the winter.
Before departing for the visit, volunteers attended an orientation that gave them tips for interacting with older adults. These orientations helped volunteers learn more about DOROT and highlighted the organization's many volunteer opportunities beyond package deliveries.
Overall, the visits brought joy into the lives of seniors and volunteers. Socialization can be quite limited for older adults, and DOROT's Package deliveries give seniors something to look forward to. They also positively impact volunteers. One volunteer wrote: "I had an absolute great conversation with Ms. J and really connected. She's very intelligent and was really really looking forward to the company and conversation."
DOROT is dedicated to alleviating social isolation among older adults. DOROT does this by creating innovative programs that help seniors stay connected to their communities. For more information about DOROT and its mission, please visit dorotusa.org