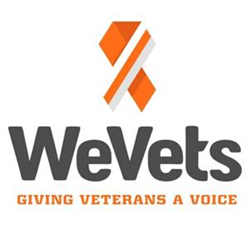 Fort Myers, FL (PRWEB) February 22, 2016
WeVets.us, will launch a unique web/app platform for veterans, their family members and patriots containing easily accessible information regarding thousands of businesses, programs, services, and organizations. WeVets provides free direct access to thousands of organizations, programs and opportunities, based on location, that are geared towards veterans, active duty military and family members. The WeVets.us app is similar to a Yelp! for the military and veteran community.
WeVets.us has a robust crowd sourcing and rating component that provides veterans with an active voice in identifying pertinent issues, weeding out fraudulent or ineffective programs, and praising others for jobs well done. WeVets http://www.wevets.us is used to promote businesses, restaurants, or healthcare providers that honor their promises to those who serve or have served. It is also a platform that will call attention to the shams and expose the businesses that are not honestly providing the services they advertise. For example, one user wrote "Stopped at ______ to pick up dinner for the wife and kids. I presented my ID and requested my discount and was told that wasn't honored at this location. I won't be going back and neither should you."
Since its inception, the WeVets http://www.wevets.us team has researched, reviewed and vetted a substantial data base in order to connect veterans to resources, and also to hold businesses, non-profits, and government agencies accountable.
WeVets can be used to search and rate everything from Veteran supportive lip smacking bar-b-que restaurants to medical facilities. This is your community, this is your Voice.
WeVets.us http://www.wevets.us will be welcoming their first one thousand registrants to a private Beta launch in Spring 2016.