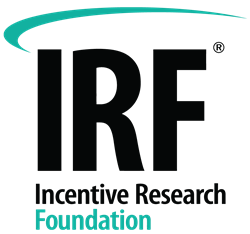 Every business needs to keep up with a fast pace and deliver on its brand promise if it wants to retain the best people—and keep them happy, productive, and motivated.
McLean, Va (PRWEB) February 09, 2016
The Incentive Research Foundation (IRF) has released its 2016 Trends in Incentive Travel, Rewards, and Recognition report, revealing that businesses will emphasize unique, upscale, and individualized experiences in motivation programs this year.
In preparing its 2016 trends report, IRF researchers analyzed existing proprietary research, solicited input from hundreds of industry professionals, and carefully reviewed incentive industry and business publications.
"This study reinforces that we live in a time of extraordinary personalization," says IRF President Melissa Van Dyke. "Every business needs to keep up with a fast pace and deliver on its brand promise if it wants to retain the best people—and keep them happy, productive, and motivated."
Van Dyke notes that the IRF's report reveals 10 key motivation trends. Highlights of the findings include the following:

Budgets are up…and so is oversight. The IRF's latest Pulse Study found that 67% of planners will increase incentive travel budgets between 1% and 10% this year. Merchandise and gift card programs are also flourishing – 40% of respondents say the economy is having a positive impact. Of course, as budgets rise, there is increased scrutiny of incentive programs, resulting in an on-going demand for better analytics.
Cash is not necessarily king. When given the choice between cash and a robust reward that aligns with their personal experiential preferences, employees often don't choose cash, especially for large awards. The IRF's Participant Study found that the most preferred award experience for large awards is travel, presented by executives and communicated via a public announcement, including the opportunity for networking.
A shift in incentive travel destinations will affect planning. For the first time, the Caribbean tied with the U.S. as the leading incentive travel destination. That means lead-times to book the most desirable destinations is becoming a critical factor. While 41% of respondents say they are booking 7-12 months out, a slightly higher percentage (45%) say they are booking more than a year out.
Merchandise and gift card programs lean toward luxury. Merchandise and gift card reward trends from IRF's most recent Pulse Study reveal increasing confidence in the economy and a return to luxury items. Top merchandise options include: electronics (31%); open-loop gift cards (28%); luggage (24%); and watches (23%).
Recipients want authentic, unique experiences. Millennials are redefining what "luxury" means and seeking "authenticity, singularity, and social value". Incentive travel planners are responding with one-of-a-kind events, incorporating elements such as locally authentic cuisine as a reflection of culture, and entertainment that reflects the feel of the destination.
A changing talent pool. As Baby Boomers reach retirement age, Gen X isn't large enough to replace them, and Millennials lack experience. Training/retention/rewards strategies need to focus on keeping the know-how of older workers in the organization and "training up" Millennials so they are ready for the challenges presented.
Integrating technology. Emerging technologies are being integrated into recognition and incentive programs to keep pace with the technologies participants adopt in their private lives. The IRF Pulse Study shows more than half of the market is using social media to enhance their rewards programs, and nearly a third are using game mechanics and techniques.
CSR is a given, not a goal. Employees increasingly expect best-in-class organizations to be good corporate citizens. Incentive and recognition program planners are integrating Corporate Social Responsibility (CSR) opportunities in the form of culture-building volunteer days or incentive travel teambuilding events. Millennials are demanding "social impact travel" where fun and sun meets the ability to have a social impact.
It's all about presentation. While the tangible reward is still an important part of creating a motivational experience, IRF's Participant Study found that, for large awards, more than half of an employee's preferred experience is determined by the award presentation and professional development. Businesses need to invest as much time and effort in the total award experience as they do the actual reward purchase itself.
Success is in the details. Generational differences don't play as big a role in successful rewards programs as other key factors. The weight employees give to the presenter of the award, how it is communicated and professional development implications are generally the same regardless of a person's income, role, gender, or generation. However, an employee's work locale has a major impact on their motivational preferences, as do life stage, past work experiences and current work environment.
For more details on the results and to read the full report, please go to: http://theirf.org/research/irf-2016-trends-in-incentive-travel-rewards-and-recognition/1692/
About the IRF:
The Incentive Research Foundation (TheIRF.org) funds and promotes research to advance the science and enhance the awareness and appropriate application of motivation and incentives in business and industry globally. The goal is to increase the understanding, effective use, and resultant benefits of incentives to businesses that currently use incentives and others interested in improved performance.
Contact:
Jon Lieb/Anita Bell
IRF Media Relations
212-563-8025
jlieb(at)30-ink(dot)com