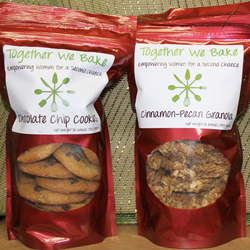 Together We Bake is such a unique organization and we admire the work they do. We are happy to be able to support this great organization once again for 2016
San Diego, CA (PRWEB) February 18, 2016
Three time's definitely a charm for Together We Bake (TWB) and Instant Checkmate(ICM), one of the world's largest people search engines. For the third consecutive year, ICM has renewed its annual corporate sponsorship of TWB with a donation of $10,500.
The mission of Together We Bake--a comprehensive workforce training and personal development program that enables women in need of a second chance to gain self- confidence and food services skills--dovetails with Instant Checkmate's corporate social responsibility. One of the San Diego-based company's primary goals is to reduce criminal victimization by providing the general public with a tool to learn more about the people in their lives. ICM's database offers instant access to information including criminal, sex offender and marital records.
"Helping the community is part of what Instant Checkmate is all about, so of course we understand the importance of giving back," says Kris Kibak, CEO of Instant Checkmate. "Together We Bake is such a unique organization and we admire the work they do. We are happy to be able to support this great organization once again for 2016."
Instant Checkmate's donation will sponsor one woman per each of TWB's three sessions this year. Centered on a micro-baking business where participants become proficient in food production, food safety education and customer service, TWB is a multi-pronged success story. The program continues to thrive, with an 83% program completion rate, a recidivism rate of 8% (this towers over the national average) and a 55% employment rate for graduates working to re-enter society and forge a positive future.
"TWB graduates are empowered and ready to forge a positive future," says Stephanie Wright, who co-founded TWB in 2012 with Tricia Sabatini. "Our program is specifically designed to meet the needs of women emerging from the corrections system or are in other transitional situations and we are extremely grateful for the support of Instant Checkmate."
Please visit I nstant Checkmate and Together We Bake for more information.
About Instant Checkmate:
Instant Checkmate is an online service that provides people finder, public record, and criminal record information to individuals on a subscription basis. Instant Checkmate aggregates data from federal, state and local sources, which have been processed and made available electronically. Some of the databases used by Instant Checkmate include state sex offender information, court dockets, census records, county arrest records and other public records. Instant Checkmate compiles public records and creates user-friendly reports describing people living in the U.S. Instant Checkmate is not a consumer-reporting agency, does not provide consumer reports and may not be used for consumer credit, employment, insurance, tenant screening or any other purpose subject to the Fair Credit Reporting Act. For more information, please visit http://www.instantcheckmate.com.
About Together We Bake
Founded in 2012, Together We Bake is an empowerment based job training program for women in need of a second chance within the Washington, D.C. metropolitan area. Together We Bake's mission is to provide a comprehensive workforce training and personal development program to help women gain self-confidence, transferable workforce skills, and invaluable hands-on experience which will allow them to find sustainable employment and move toward self-sufficiency.