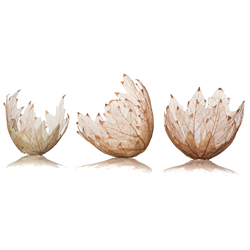 my intent is to construct a vessel or related object using materials respectfully harvested from nature.
Morristown, NJ (PRWEB) March 01, 2016
In hosting browngrotta arts' and Jane Milosch's exhibition, Green from the Get Go with Organic Portraits, the Morris Museum and the exhibitions' sponsors, Paige Electric Serenade Restaurant and patrons Jack Walsh and Martha Pierce, will draw attention to issues of sustainability and the need for increased use of renewable resources. Their intent in sharing these artistic creations is to both heighten awareness of and draw attention to an unlimited resource for artistic inspiration – nature.
Created by 33 artists, both ground-breaking innovators in the realm of 20th-century art basketry, as well as emerging talents, the works in Green from the Get Go all find inspiration in nature and the history of basketry. Curators Jane Milosch, Office of the Under Secretary for History, Art and Culture, the Smithsonian, and Rhonda Brown and Tom Grotta, of browngrotta arts, selected artists who embrace sustainability as an integral part of their design and craft process. Their work reveals a heightened sensitivity to the physicality of materials, one that honors the stewardship of nature by their choice and use of materials. Several artists, directly or indirectly, advocate for the replenishing and repurposing of natural resources. Artist Dorothy Gill Barnes explains this philosophy when she states, "my intent is to construct a vessel or related object using materials respectfully harvested from nature."
In conjunction with Green from the Get Go, the Morris Museum will exhibit New Jersey photographer John F. Cooper's Organic Portraits series and offer his book of the same name in the Museum Shop. Cooper's intent is to create a series of timeless and fundamentally beautiful images that would create awareness for—and help preserve—the world's rainforests. "The aim of this project" says Cooper, "is to drive home the understanding that our rainforests— the lungs of our Earth— are both vital and in dire need of protection." Cooper published Organic Portraits through a Kickstarter campaign; he is donating all profits from the book to the Rainforest Action Network Fund.
The exhibition is sponsored by Serenade Restaurant, which nurtures long-lasting relationships with local farms and farmers promoting seasonal foods and sustainability, Paige Electric of Union, NJ, which has offset 59% of its needs there through solar and which has also created recyclable wire and cable packaging that has saved thousands of trees, and art patrons Jack Walsh and Martha Pierce.
The Morris Museum is located at: 6 Normandy Heights Road, Morristown, NJ 07960, accessible from New York City via http://www.njtransit.com. The Morristown train station is two miles from the Museum. Taking a cab from the train station is recommended. (P&P Taxi Service -973.539.5903 or 973.539.1149 or Bumblebee Taxi and Limo -973.683.1313.) The exhibition runs from March 19 to June 26, 2016.
The opening reception for the Exhibition is on March 31 from 6:30 to 8:30pm. For more information: (973) 971-3700; info(at)morrismuseum(dot)org.
Participating artists:
Dona Anderson (US), Laura Bacon (UK), Jane Balsgaard (DK), Dorothy Gill Barnes (US), Dail Behennah (UK), Nancy Moore Bess (US), Birigit Birkkjaer (DK), Jan Buckman (US), Chris Drury (UK), Lizzie Farey (UK), Ceca Georgieva (BG), Marion Hildebrandt (US), Mutsumi Iwasaki (JP), Kiyomi Iwata (JP), Stéphanie Jacques (BE), Tim Johnson (UK), Christine Joy (US), Markku Kosonen (FI), Gyöngy Laky (US), Dona Look (US), Dawn Macnutt (CA), John McQueen (US),, Mary Merkel-Hess (US), Valerie Pragnell (UK), Ed Rossbach (US), Hisako Sekijima (JP), Kay Sekimachi (US), Naoko Serino (JP), Polly Adams Sutton (US), Noriko Takamiya (JP), Jiro Yonezawa (JP), Masako Yoshida (JP)
About browngrotta arts
browngrotta arts represents the work of more than 100 international contemporary textile and fiber artists. The firm has published 43 art catalogs and placed art work in dozens of private and corporate collections in the US and abroad, as well as in the permanent collections of the Metropolitan Museum of Art, Museum of Arts and Design, the Art Institute of Chicago, the Philadelphia Museum of Art, and the Renwick Gallery of the Smithsonian Museum. browngrotta arts' website, http://www.browngrotta.com, and its blog, http://arttextstyle.com, are destination sites for art consultants, interior designers, collectors and practitioners.
About the Morris Museum
Founded in 1913, the Morris Museum is an award-winning, community-based arts and cultural institution which serves the public through high caliber exhibitions in the arts, sciences and humanities. The Museum also offers educational programs, family events, and is home to the Bickford Theatre and its wide range of performing arts offerings. Continuously serving the public since 1913, the Morris Museum has been designated a Major Arts Institution and has received the New Jersey State Council on the Arts' Citation of Excellence, among other awards. The first museum in New Jersey to be accredited, the Morris Museum was re-accredited in 2013 by the American Alliance of Museums.