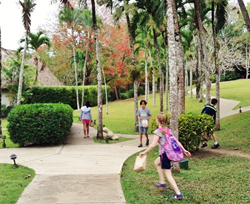 It's a fun and interesting way to experience first hand some of the things that make Belize so special
San Ignacio, Belize (PRWEB) February 11, 2016
The Lodge at Chaa Creek is now taking bookings for its annual Easter Family Adventure all-inclusive Belize vacation package, and with the Belizean Easter celebration attracting more guests each year, the popular eco resort is advising that people book early to avoid disappointment.
"Our Easter week celebration is another event that started out informally and small, and took off to become one of our most popular holidays," Chaa Creek co-founding owner Lucy Fleming said.
Ms Fleming said that since introducing the four night, all-inclusive Belize vacation package, more and more families are opting to spend their Easters in Belize.
"It's so nice that something that began as our own family's Easter celebration for friends and neighbours now attracts people from around the world," Ms Fleming said, explaining that the Easter Family Adventure is now an all-inclusive Belize vacation package that contains everything from pickup and drop-off at Belize's international airport, eco-luxe accommodation, all meals, a welcoming gift package, visits to the onsite natural history museum and butterfly farm as well as enjoying amenities that include Chaa Creek's tropical gardens and infinity pool. Arts and crafts projects such as palm leaf weaving will also be on offer throughout the holiday, she said.
The package's tours and daytrips feature a scenic Macal River canoe excursion with a visit to the riverside village of Cristo Rey before continuing on for lunch in historic San Ignacio Town. Horseback rides to one of the many Maya archaeological sites dotting Chaa Creek's 365 acre nature reserve, an excursion to the pyramid temple at the nearby Maya ceremonial site of Xunantunich, the popular "Creatures of the Night" evening nature walk, and a rainforest treasure hunt are also included.
In addition to the guided nature walks, visitors will also have the opportunity to participate in an annual survey of nesting areas around Chaa Creek, trekking the forest with guides to identify and record the wide variety and number of birds' nests in local forests.
For many guests, the highlights of the vacation are the Easter Sunday activities, which include fine dining at the onsite Mariposa restaurant and Chaa Creek's annual Easter egg hunt, Ms Fleming said.
"The annual Easter egg hunt was something we started for our own kids and their friends. It's now an exciting Easter Sunday activity for people of all ages that's both fun and educational," Ms Fleming said, explaining that the hunt features licenced naturalist guides taking groups on guided tours along well maintained jungle trails to learn about Belize's natural world and ancient Maya heritage while searching for decorated eggs.
"It's a combination Easter egg hunt and guided nature walk that people of all ages enjoy. Our naturalist guides have a trove of knowledge that they're very happy to share, so while hunting for colourful eggs in a pristine forest setting guests also learn about Belize's beautiful tropical birds, wildlife and plants as well as the fascinating ancient Maya culture that thrived in this area," she said.
"It's a great way for the entire family, couples, or groups of friends to experience first hand some of the things that make Belize so special," she added.
Ms Fleming said the Easter egg hunt was just one of the many reasons behind the growing attraction of a Belizean Easter vacation.
"For many families, it's a way of turning a traditional holiday into an adventure, to share something special that they'll always remember. Belize's close proximity to North America makes it an easy and affordable holiday destination, and the fact that we're a friendly, English speaking country with an economy pegged to the US dollar makes for a familiar yet still exotic vacation.
"Chaa Creek, located in our own private 365-acre nature reserve with a large friendly staff and a wealth of activities has earned us the reputation as Belize's 'Destination within a Destination', which makes for a secure, carefree experience where parents can relax and guests can enjoy a complete, satisfying Belizean vacation right here," Ms Fleming said.
Another factor that makes Belize an attractive Easter vacation option, she added, is the weather.
"Belize is blessed with a wonderful climate, averaging 84° F (29° C) all year long, with April enjoying highs of 85° F (29° C) and evening lows of 76° F (24° C). It's a lovely time of year with flowers blooming and the mornings filled with a chorus a birdsongs. A guest once remarked that with all the greenery and colours, Belize reminded her of a giant Easter basket.
"That image stuck with me, and I like to think that by adding enjoyable activities, fine dining and friendly service to that basket, we'll help people have a Belizean Easter vacation they'll remember forever," Ms Fleming said.
The Lodge at Chaa Creek is a multi award winning eco resort set within a 365-acre private nature reserve along the banks of the Macal River in Belize.
ENDS