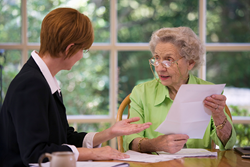 Chicago, IL (PRWEB) February 19, 2016
The Senior Transition Specialist Training course is based on real-life experiences of practitioners who originated the methodologies. It has been carefully adapted from years of classroom instruction and includes exercises and scenarios based on real situations. Content is organized in topical units that help students understand how to most successfully help seniors "rightsize" their living arrangements.
Participants successfully completing the course will also fulfill a critical eligibility requirement for the Certified Relocation Transition Specialist (CRTStm) certification. To date, several thousand professionals have earned the CRTStm certification across the United States and Canada.
Senior Relocation Specialist Training is appropriate for individuals who are currently working in a related industry such as professional organizers, caregivers, medical personnel, real estate agents, estate sales specialists and attorneys. Individuals wishing to enter the field of senior relocation as a second career will also find the course to be very useful..
According Sherri Henderson, Operations Manager at national known Caring Transitions®, "Each week thousands of Americans turn 62 years old. America is in the midst of a massive demographic shift. We find the need for this type of training is growing along with that shift."
Laura Leist, founder of Eliminate Chaos®, a firm based in Washington state adds, "I took the classroom training several years ago and found it to be very valuable. I went on to become certified as a CRTStm the following month. I'm very happy this training is now available in an online format. It makes it accessible anytime to people who need additional information about the best ways to help seniors adults through the difficult process of downsizing."
The training is presented in 18 modules that cover topics including understanding the client's needs, health and stress, housing options, rightsizing services, space planning, handling personal possessions, packing, moving and settling into a new home. Module 18 contains bonus information that focuses on tips for how the specialist can set up their service to best serve clients and their families.
As working professionals, students often belong to trade and networking organizations in their core industry. They are not required to join another organization to benefit from this program.
To register for training, log on to: https://www.crtscertification.com/page/apply-now
Cost of the course is $649. The certification exam is $350.
CRTStm, the CRTS logo, NCBACtm. All rights reserved.
Other trademarks are the property of their respective organizations.
About NCBAC
NCBAC is the only independent national board that follows the healthcare certification/licensure model to administer standardized certification examinations in dementia. The purpose of the Board is to provide a benchmark for core competencies and knowledge for those who provide care and education in the field of dementia and elder care.