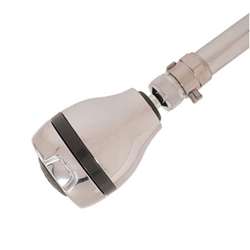 It is now possible to get a great shower, be environmentally conscious and conserve water.
Portland, ME (PRWEB) February 11, 2016
As more and more homes are being built, and as more and more demand is being placed on our limited water resources, two main concerns have arisen in homes everywhere. They are:

Low water pressure in the shower - in other words it is next to impossible to rinse off soap and shampoo
The need to conserve water - some municipalities have even imposed water rationing
takeashower.com (parent company, Water Management, Portland Maine) has designed two new shower heads for these two specific concerns: the Spa Deluxe Hand Held Shower with Volume Control and the Spa Shower Head with Volume Control. Both models do what no other shower heads have ever done before. First, they allow people suffering from low water pressure to finally get a really strong, powerful and invigorating shower. Secondly, they give the user the ability to completely regulate or set the water flow rate right at the shower head. This is an industry first. It is now possible to get a great shower, be environmentally conscious and conserve water.
Low water pressure is not a number, it really means that it takes forever to rinse the soap off the skin and the shampoo out of the hair. Taking a shower is unpleasant - a more powerful, invigorating shower is needed. These two new Spa Shower Heads will meet, and in fact exceed, this need.
Both models were also designed with a solid brass volume control, made in the USA. By simply pushing a button they instantly go from a full flow down to a trickle, and everything in between. Turn the water flow down to a trickle for soaping up, shampooing, and then back to full flow to rinse off. But there is much more. Flow rates can be reduced by 10%, 20%, 55% - in fact, to any desired flow rate. The volume control does not move by itself, even when the shower is turned off.
Saving water and getting a great shower has never been easier, or more comfortable.
About takeashower.com
They recently celebrated their 25th Anniversary in business. They are the only company in the US that actually designs shower heads for both low water pressure and water conservation. Their shower heads are currently being used by some of the largest companies in the US, as well as tens of thousands of individual users in the US and throughout the world.
takeashower.com is incredibly proud to have earned and maintained an A+ Rating by the Better Business Bureau, and have received outstanding reviews in the national media, including The Boston Globe and WBZ- TV4, Boston.