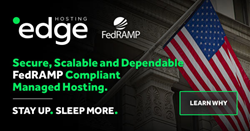 We deliver a multi-layer security environment that protects and enhances federal environments.
Baltimore, MD (PRWEB) February 10, 2016
Edge Hosting, a national provider of secure, scalable and dependable managed hosting services, announced today that the Department of Defense has granted Edge Hosting a Provisional Authorization for Edge Hosting's CloudPlus – Managed Cloud for Secure Windows and Linux Application Hosting.
As cloud adoption continues rapid acceleration, it's more important than ever for providers to demonstrate a cloud offering that is highly secure, compliant with strict regulations, has the capacity to effortlessly scale and comes bundled with unrivaled support. In both private and public sectors, it is often cost and resource efficient to migrate to a cloud environment.
"We're proud to be one of the very first approved CSP's under FedRAMP. Our commitment to deliver compliant solutions within a fully managed infrastructure helps create positive outcomes for our current and future customers," said Vlad Friedman, Founder and CEO at Edge Hosting.
Edge Hosting's CloudPlus is one of the first managed cloud hosting solutions to be authorized for the Federal Risk and Authorization Management Program, or FedRAMP. CloudPlus simplifies the complex requirements of FedRAMP providing an approach to security assessment, authorization, and continuous monitoring for cloud products and services. The Provisional Authorization from the DoD allows Edge Hosting to expand the CloudPlus offering into the Department of Defense space and partner with Mission Owners (MO's) for secure, scalable cloud solutions.
"We deliver a multi-layer security environment that protects and enhances federal environments. The addition of the PA validates this effort and allows Edge to continue to serve a broad government sector," said Mark Houpt, Chief Information Security Officer at Edge Hosting.
About Edge Hosting, LLC
Edge Hosting delivers secure, scalable, dependable and compliant managed hosting solutions for public and private organizations nationwide. With over two decades of experience, Edge offers customized public, private, and hybrid cloud environments in addition to dedicated hosting and application management. Edge Hosting has one of the most secure compliant hosting solutions that include FedRAMP, PCI, SSAE 16, and HIPAA. For more information about making the switch to Edge Hosting, please visit http://www.edgehosting.com.