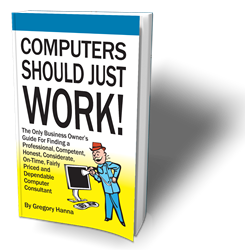 "I have saved many 10's of thousands of dollars with the invaluable information in this book." - P. Masuret, Executive Director, Casner & Edwards
Southborough, MA (PRWEB) February 11, 2016
The book, "Computers Should Just Work!", provides a basic, non-techie education on how to avoid overpaying for IT services, what questions to ask your IT consultant before signing a contract and how to spot an incompetent or dishonest IT person before giving them access to your computer network.
"With companies relying heavily on e-mail and technology, it's more important than ever to make sure the company you outsource your computer support to is competent in guiding your decisions," said Greg Hanna, Chief Executive Officer for TOSS C3. "Hiring the wrong person or company can be expensive in many ways, and companies need to make sure that the person they trust to secure their data and protect them from hackers is doing all the right things to avoid litigation, data loss or the violation of federal laws around storing and securing sensitive data like medical files, credit cards, social security numbers or other confidential information."
The book also features advice on cloud computing, security, backup and disaster recovery, as well as cost-saving tips for avoiding expensive and unexpected computer repair bills. For more information about "Computers Should Just Work!" or to purchase copies of the book, go to http://lulu.com/spotlight/tossc3 or contact TOSS C3 at +1.888.884.8677.
About the Author
Gregory Hanna has over 28 years in the IT industry, and has a deep knowledge-base in both business and technology. An expert in cloud services, disaster avoidance and business continuance, Greg Hanna is published in numerous industry journals and magazines such as, Strategic Finance. New York Law Journal, Law Technology News, and National Law Journal, and continues to author books, white-papers and articles on Cybersecurity, Cloud Computing, Disaster Avoidance Planning, and Regulatory Compliance.