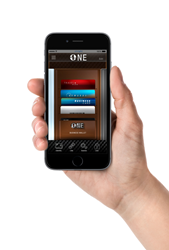 "Gift cards are often left behind and go unused. People simply forget about them. We have developed specific technology to solve that problem" says Joseph Callahan, Ciright ONE Chairman and CEO.
Conshocken, PA (PRWEB) February 10, 2016
Ciright ONE LLC ( http://www.getmyone.com) a technology leader in the payment industry space introduces a cutting edge solution for consumers to track and spend their gift card balances.
According to a recent study, consumers spent some $130 billion on gift cards, while close to $1 billion went unused. Millennials made up a significant portion of the unused balances as 40% misplaced or lost a gift card before spending it.
"This is a significant problem consumer's face," said Joseph Callahan, Ciright ONE Chairman and CEO. "It is extremely inconvenient to keep track of so many plastic cards and the balances associated with each. That is part of the reason why Ciright's ONE card is such a needed and timely product to launch."
The ONE card paired with a mobile wallet simplifies the everyday tasks for consumers by consolidating all credit, debit, loyalty, membership and gift cards into one dynamic electronic card paired with a digital wallet so that the user will have the flexibility to pay with either the ONE card or their smartphone.
Consumers can securely load gift cards via picture scan or card reader into their ONE digital mobile wallet and keep track of their balances.
"Imagine being able to carry one card around in your pocket or traditional wallet," says Callahan. "Think about being able to use your gift card as payment for a purchase and then being able to determine if you have any rewards points to use towards that same transaction, lowering your overall spend. It's a win-win for the consumer."
Besides pairing with a smart card, what differentiates the ONE digital wallet from other gift card tracking apps currently on the market is the consumers' ability to easily access all of their other forms of payment on the fly.
ONE is currently accepting orders with an anticipated ship date of Spring 2016. Visit http://www.GetMyOne.com for more information.
ABOUT CIRIGHT ONE LLC
Ciright ONE LLC, an affiliate of Ciright, is a mobile technology solutions provider focused on simplifying everyday tasks for businesses and consumers. Ciright is headquartered in West Conshohocken, Pa., the "Liberty Valley."
The ONE is a patented, programmable smart card with an embedded microprocessor, which can store all of a user's credit, debit, membership and rewards cards to consolidate and simplify their wallet. The ONE is highly secure, all user data is encrypted and stored on a secure network. The card is accepted everywhere that traditional credit and debit cards are accepted. The card works with a companion mobile app that allows for the user to easily manage all cards and data.
This announcement follows significant milestones already achieved by Ciright ONE including the close of Series A financing, securing the rights to 14 industry patents, the acquisition of GONOW Technologies LLC and an agreement in principal with Stratos, Inc. to honor and fulfill all outstanding consumer and commercial orders.
For more information, visit http://www.GetMyOne.com.