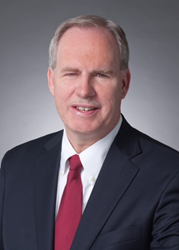 King of Prussia, PA (PRWEB) February 11, 2016
Paratherm – Heat Transfer Fluids announces that Mr. Edward Delate has assumed the role of business director, following the retirement of general manager, George Schreiber. The changeover took place October 1, 2015.
Delate's previous experience includes serving as the vice president of global engineering, corporate social responsibility, and safety at Keystone Foods, a division of The Marfrig Group. Before joining Paratherm, Delate worked closely with top global food-industry companies. His senior-level executive experience in the food industry, BS in chemical engineering and MBA further his capabilities to bring excellence to Paratherm's customer service focus.
Guided by his predecessor, Delate recognizes Paratherm's history and legacy. He is already carrying on with a similar work ethic to support and serve the group's mission, and his inherited personal mission, of exceeding high customer service expectations. He continues to emphasize the necessity for excellent products, sample testing, analysis and a high quality technical operation. Under Delate's guidance, the Paratherm team will maintain its collaborative efforts, focusing on existing and new customers alike.
Founded in 1988, Paratherm has become a leading manufacturer of heat transfer fluids, system cleaners and related additive products. The firm offers a range of products (currently nine fluids, three cleaners, and an oxidation reinhibitor additive) covering temperatures from -127°F to +675°F. Paratherm serves a diverse number of industries including the chemical industry, food processing and plastics manufacturing.
Paratherm's efforts have long been focused on their clients' applications, systems and operations with expert assistance and quick turnaround being top priorities. Orders can be filled quickly and in urgent situations very quickly, because the company stocks product in half-a-dozen North American locations and internationally in Europe, South America and Asia.
Since December 2012, Paratherm has been a business of CPI Fluid Engineering, a division of The Lubrizol Corporation.