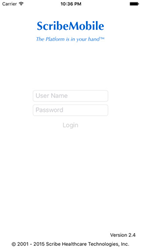 This release is a significant enhancement to our offerings and provides even greater freedom for physicians to focus on their patients instead of being tied to their computers and keyboards
Naples, Florida (PRWEB) February 10, 2016
The latest version of the Scribe Mobile 2 app lets physicians create more detailed notes and provide quicker care by being able to search historical documents, notes, images, and videos. These can now be quickly used to document current encounters or to simply and easily have access to patient information anywhere, anytime to provide better care. "The latest version of Scribe Mobile 2 has unique features unavailable in any other mobile application," explained Etienne Taylor, Scribe CTO. "Our app offers physicians everything they need to care for their patients in the palm of their hand."
Scribe's secure, Cloud-based solutions are physician-centric. With one login, physicians can combine patient information from hospitals, clinics, surgery centers - wherever the physician practices. No more wondering which location the information they need is in to care for their patients. "Scribe's perpetual clinical information archive has over 20 years of patient records for some of our clients," said Boyce. "We're constantly asked to import historical information from diverse systems so that physicians have everything they need in one place."
Not only can they view historical information but they can easily review, edit and approve new encounter documentation as it is created. Once approved, information can be broken into its discrete parts and recorded in their EHR with no effort using Scribe Charting. Physicians gain 30-40% in productivity with Scribe Mobile 2 and Scribe Charting. "Now that they can edit information on Scribe Mobile 2 wherever they are, we expect further productivity improvements," said Taylor.
Scribe Mobile 2 is available in the Apple App Store. Contact Scribe for more information or to schedule a free trial of Scribe Mobile 2 and Scribe Charting.
About Scribe
Based in Naples, Florida, Scribe is the leading, Cloud-enabled, Platform as a Service [PaaS] solutions company for healthcare providers in optimizing productivity and revenue in the creation, coding and management of health care records, insurance claims and payments. Scribe's products and services return flexibility, control and productivity to healthcare organizations which restore physician productivity through simplified, intuitive and innovative medical workflow solutions. Scribe allows physicians the freedom to focus on what matters most!™ Additional information can be found at http://www.scribe.com or by contacting sales(at)scribe(dot)com or 877-669-8746.