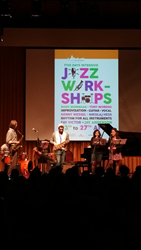 Yeah, we feel pretty good about tooting our own horn--we have the greatest jazz intensives in the city this summer
New York, NY (PRWEB) February 12, 2016
The New York Jazz Workshop is the destination for jazz musicians from all over the world this summer! Located near Times Square, NYJW's 8th Jazz Intensive Summer series is going to be an incredible experience for both participants and teachers alike.
Twelve different summer intensives on various topics: some are instrument specific, some are for all instruments, and others are for vocalists. Summer intensives are three to four days long and each can be taken alone or in combination with other intensives and private lessons.
Prices vary per program but there is an early bird discount for registrations received before May 1st.
The fee for a 3 day program starts at $495 and includes a free ticket for a show in a New York Jazz Club.
Summer 2016 Lineup:
July 18-20: Composition/Arranging Intensive
July 21-24: Jazz Improvisation
July 25-27: Saxophone Intensive
July 28-31: Jazz Guitar
Aug 1-3: Keyboard/Piano Intensive
Aug 4-7: Vocal Intensive for Beginners
Aug 8-10: Jazz Choir
Aug 11-14: Vocal Intensive for Intermediate/Advanced
Aug 15-17: Drums and Percussion Intensive
Aug 18-21: Rhythm for All Instruments!
Aug 22-24: Brass Intensive
Aug 25-28: Big Band Intensive
"The New York Jazz Workshop Summer Intensive Series is for musicians, 17 and up, who have a desire to improve and learn. Some of our intensives are better suited to intermediate and advanced musicians; other summer intensives, such as the beginner vocal and choir, are open to everyone."
Participants are encouraged to participate in weekly jam sessions and perform live in a NYC jazz club! When you join the New York Jazz Workshop for one or more of their intensives, you can expect to become a member of a tightly knit community where musicians will be looking to learn, explore, and make connections that last a lifetime.
For more information on specific programs, faculty, prices, and registration, go to: http://www.newyorkjazzworkshop.com/summer-series/
You can contact the New York Jazz Workshop anytime at:
email: info@newyorkjazzworkshop.com
phone:(1) 646-205-2800
Toll Free 888-690-5299 ext 4