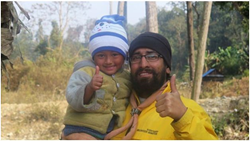 The Volunteer Minister "helps his fellow man on a volunteer basis by restoring purpose, truth and spiritual values to the lives of others
Los Angeles, CA (PRWEB) February 10, 2016
In the village of Aaru Pokhai, many of the survivors of the devastating April 2015 earthquake are still without shelter. But thanks to the January 28th efforts of the Kathmandu-based Nepal Scientology Volunteer Ministers Center many of them have new blankets and warm winter clothing to protect them from the cold.
A farming village in the Himalayan foothills of the Gorkha district of Nepal, Aaru Pokhari was one of the hardest-hit areas devastated by the 7.8 Richter scale earthquake. Nearly every one of the 240 households and the village schools suffered severe earthquake damage. Most families are living in temporary shelters or tents with little protection from harsh winds and sub-zero temperatures.
Within hours of the earthquake, the Nepal Scientology Volunteer Ministers launched their relief effort and have continued to provide help ever since. It began with clearing roads, finding survivors and disposing of the dead and continued with distributing food and water, particularly to outlying villages that were not being reached by aid workers.
With hundreds of Volunteer Ministers and their partners arriving from India, Pakistan, Thailand, Australia and as far away as Mexico, Colombia, Peru and the United States, the Kathmandu center served as a headquarters from which search and rescue and relief teams were deployed to regions in need of help.
Then came a reconstruction phase. Teams of Volunteer Ministers and Nepal Scouts worked together to build hundreds of temporary homes and schools—a task that continues today.
The Kathmandu Center is also where volunteers from across Nepal come for Scientology Volunteer Ministers disaster response training.
Whether serving in their communities or on the other side of the world, the motto of the Scientology Volunteer Minister is "Something can be done about it." The program, created in the mid 1970s by L. Ron Hubbard and sponsored by the Church of Scientology International as a religious social service, constitutes one of the world's largest and most visible international independent relief forces.
The Volunteer Minister "helps his fellow man on a volunteer basis by restoring purpose, truth and spiritual values to the lives of others."
A global network of Volunteer Ministers mobilizes in times of manmade and natural disasters, answering the call wherever needed. Collaborating with some 1,000 organizations and agencies, they have utilized their skill and experience in providing physical support and spiritual aid at hundreds of disaster sites. Learn more at http://www.VolunteerMinisters.org