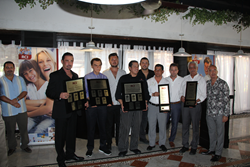 Cancún, Quintana Roo (PRWEB) February 12, 2016
Sunset World Resorts & Vacation Experiences has become one of the hotel industry groups in the Mexican Caribbean to receive the most awards by Resort Condominiums International (RCI) thus confirming its status as one of the best time share vacation experiences in Mexico as Sunset Royal Beach Resort receives the Gold Crown award for 25 uninterrupted years due to its constant renovation and permanent drive for excellence in service.
In a moving ceremony held at La Vela Restaurant, in the presence of directors and staff of the hotel chain, the leading timeshare vacation exchange network presented the Gold Crown awards to four of the group's hotels in Cancun and the Riviera Maya, as well as the Excellence in Service, Top Producer Weeks and RCI Diamond awards.
"For Sunset World, it is source of pride that for 25 years we have been receiving these awards which RCI presents to the time share companies that provided the best experiences to its guests, something which motivates us to continue modernizing our services day after day and improving our quality standards," stated Jorge Pallas, vice-president of Operations and Administration of the group.
The coveted Gold Crown awards- granted to hotels with the highest ratings given by members and guests-were awarded to Sunset Royal Beach Resort, Sunset Marina Resort & Yacht Club, Sunset Fishermen and Hacienda Tres Ríos Resort Spa & Nature Park.
"The key to success is good service; 90 percent of our clients come back to Sunset World and 60 percent recommend their hotel and destination thanks to our staff´s service and the great job they do to provide a great experience to our visitors," stated Arturo Marcelín, VP of Sales and Marketing at Sunset World, adding that although 80 percent of the hotels at our destination are time share, there are guests who have been coming back to our Sunset World properties for 20 years.
Gustavo de la Serna, RCI's Regional Business Development Director for Mexico and Latin America, in turn stated that only 22 percent of hotels in Cancun receive the Gold Crown as a result of guest satisfaction. "The fact that Sunset World gets awarded every year is something its directors and staff must be credited for," he emphasized.
With the presence of Germán Fayad, General Director of Hotel Operations at Sunset World Resorts, Felipe Baquedano, Regional RCI Manager, presented the Top Producer award to Sunset World as the group with the largest number of sales and members, thus acknowledging the great work being done by the group in promoting the destination.