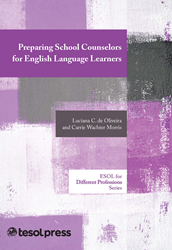 School counselors play an instrumental role in English learners' success.
Alexandria, VA (PRWEB) February 12, 2016
TESOL Press, the publishing division of TESOL International Association, announces the recent release of three new titles. The new releases, which focus on topics ranging from using wordless books in the classroom to teaching at a university in China, offer advice, tools, and practical methods for English language professionals.
Wordless Books: So Much to Say! is a groundbreaking new title that explores how teachers can bring picture books to life in their classrooms and enable students to be successful, regardless of their literacy level. It even includes additional online resources, featuring editable rubrics teachers can use again and again.
"This book is extremely versatile and applicable for English language learners at any age and language proficiency level," notes Myrna Jacobs, Senior Manager of Publications and Product Development at TESOL. "Teachers can effortlessly adapt the sample activities and downloadable rubrics for children, adults, novice, and advanced learners. The uses are truly endless."
Gilda Martinez-Alba and Judith Cruzado-Guerrero, the editors of the book, will be leading a TESOL virtual seminar on 24 February to discuss how teachers can connect wordless books to websites, apps, and other texts to help students develop important skills like oral language, listening, and vocabulary.
Preparing School Counselors for English Language Learners, another new release, comes from the ESOL for Different Professions Series. This important text focuses on the specific knowledge and skills that school counselors need to develop in order to best serve the English learner population in their schools.
"School counselors play an instrumental role in English learners' success," affirms Robyn Brinks Lockwood, TESOL's Books Publications Committee Chair. "It's critical that we provide them with the right tools, like information on specific legislation and multicultural counseling best practices, to better prepare them to address the complex needs of this population."
Perspectives on Teaching English at Colleges and Universities in China is the latest book in the ELT in Context Series. Co-authored by a Chinese teacher of English in China and an American teacher of English who worked in China, this text is a powerful example of international collaboration and brings together two equally important and complementary areas of expertise. One teacher-author can be considered to be an expert in the ELT system of that country he was educated in and is the product of that system, while the other teacher-author can be considered to be an expert in the use of the target language, in this case, English.
All three new releases are available in both print and ebook (PDF) formats.
More information on these titles and sample chapters are available through the TESOL Press online bookstore.
Review copies are available on request from TESOL Press.
About TESOL Press
TESOL Press, the publishing arm of TESOL International Association, supports excellence in the field of English language teaching through a full range of publications. TESOL authors may be leading experts in the field, experienced researchers, classroom teachers, and even students.
TESOL Press has a long history of providing quality publications, including the high-impact TESOL Quarterly and a book catalog of more than 100 titles that find their way to classrooms and libraries all over the globe. Other press resources include TESOL Journal, an online-only journal for TESOL members, and professional papers on important issues in the field of English language teaching and learning.