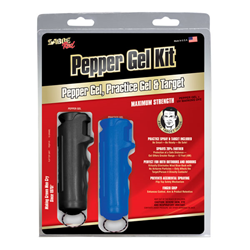 Designed for first-time users to those who have been carrying pepper spray for years, this safety kit features gel.
(PRWEB) February 11, 2016
Pepper spray is a safe, practical and effective way to subdue dangerous attackers, as recently exemplified by a video store clerk who took down an armed robber. Although a safe product, some consumers worry the spray may affect their loved ones if they are in the immediate area when it is deployed. In response, SABRE has announced a new product, the Pepper Gel Kit with Keychain Pepper Gel, Practice Gel, Target & Training Video.
Designed for first-time users to those who have been carrying pepper spray for years, this safety kit features gel. Pepper gel virtually eliminates airborne particles and wind blow-back, only affecting the target/person it directly contacts. This alleviates the exposure concerns occasionally associated with pepper spray. These benefits make pepper gel ideal for outdoor use, with reduced chances of wind causing the spray to affect innocent parties, including the user. This state-of-the-art formula also offers protection at an even safer distance with its increased range: Gel reaches 20% farther than traditional pepper spray.
Pepper gel was originally developed for police helping them to only target a specific individual in areas where people gather such as sporting and entertainment events, government buildings, hospitals, courtrooms etc. Since it only affects the person it directly contacts, it is ideal for use in those areas and for consumer protection as well.
"This kit is the perfect way to help SABRE customers feel more comfortable, familiar and ready to defend themselves, which we're very excited about in 2016," said David Nance, SABRE CEO/VP of Sale & Marketing. "It contains elements needed to help provide SABRE users with the confidence they need to feel comfortable and safe in today's society."
One of the biggest advantages of the pepper gel kit is the free training video, target and practice Gel Spray. Practicing with this kit will help give SABRE users the familiarity and confidence they need to maximize their personal safety. The pepper gel and practice canister contain an industry-leading 25 bursts with a 12-foot (4M) range, offering protection against multiple threats at a safe distance. The kit is available online for just $19.99.
SABRE is currently the only manufacturer offering pepper gel in a compact keychain size. The pepper spray leader has also added a variety of new gel models - including athletic, on-the-go, tactical and home defense products - to its collection in 2016. Consumers can protect themselves with industry-leading pepper gel products at http://www.sabrered.com/gel.
ABOUT SABRE
SABRE, the no. 1 pepper spray trusted by police and consumers worldwide, is family owned and operated with four decades of experience and is the leading brand in personal safety. The company's law enforcement grade pepper sprays provide consumers with the same superior quality chosen exclusively by the New York Police Department, Los Angeles County Sheriff's Department and law enforcement agencies worldwide. SABRE has trained 3,500 officers around the globe on the use of force and how to use pepper spray. SABRE also has a line of consumer personal alarms and home security systems, and is dedicated to educating its customers. SABRE's Personal Safety Academy is available through certified instructors around the world to help teach personal safety skills to SABRE users. Learn more at http://www.sabrered.com, on Facebook at 'SABRE-Security Equipment Corporation', on Twitter @SabreRed or on Instagram @SabreSafety.