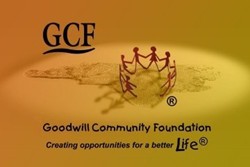 GCF has given over $20 million dollars to help people across the globe since its founding in 1995.
Durham, NC (PRWEB) February 11, 2016
Goodwill Community Foundation (GCF®) reached a new milestone in grants to organizations throughout eastern North Carolina and around the world. The Durham-based non-profit has given over $20 million dollars to help people across the globe since its founding in 1995. This amount is above and beyond GCF's annual grant to Goodwill Industries of Eastern North Carolina.
The GCF grant program was developed to support and further the reach of community organizations that are already in place. For example, GCF grants have rescued various local Boys & Girls Clubs from extinction in eastern North Carolina. In 2015, GCF donated over $180,000 to these clubs.
In making the announcement, Rev. Dennis McLain, GCF president, said, "The foundation was created to enable GCF to support services in communities regionally and internationally through local organizations without creating duplicate programs."
GCF grants encourage and enable the volunteer leadership in communities throughout eastern North Carolina to support key service providers. GCF funds have been used to start new youth programs in Oxford, Snow Hill, and Martin County, and fund a summer youth program in Aulander, NC.
Several years ago, GCF helped to eliminate a serious health threat to children with disabilities when black mold was discovered in a building serving those children. GCF provided the funds to remove the mold and make the building safe for the children.
"It is rewarding to see children in eastern North Carolina benefitting from the grants that GCF makes," McLain said.
GCF donated over $1.3 million in grants in 2015. These grants not only helped to provide mobility to disabled people in Africa but also enabled GCF to be present the day after the earthquake in Nepal. Reaching this $20 million dollar milestone is evidence of the GCF commitment to provide significant grants for disaster relief in North Carolina, the U.S. and the world.
For more information about GCF and how it supports students, families, and the people of eastern North Carolina, please visit http://www.GCFGlobal.org or call 919-941-9600.
About Goodwill Community Foundation (GCF®)
Goodwill Community Foundation (GCF®) continues to be a leader in an era of change by providing the training required for the emerging world where technology is integrated into everyday life. The mission of GCF® is to create and provide education, employment and life enrichment opportunities regionally, nationally and internationally for people who desire to improve the quality of their lives.
The GCF Community Foundation, a Durham-based tax-exempt organization, provides employment, fresh produce and volunteer opportunities, family services for parents with children with disabilities and free accounting services to youth programs across eastern North Carolina. GCFLearnFree.org and GCFAprendeLibre.org have provided free lessons for over 555,000 people in North Carolina since 2010 to improve their technology, math and English skills.
All GCF programs are funded through revenue generated from the value of donated items to 38 Goodwill Community Foundation stores throughout eastern North Carolina. GCF employs more than 400 people who earn an average of $20 per hour with benefits at these stores. For more information on GCF®, visit http://www.GCFGlobal.org.