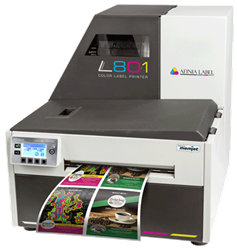 Chanhassen, MN (PRWEB) February 11, 2016
When it comes to customer satisfaction with printed label output, the importance of correct color profiles cannot be overstated. CMYK conversions of PMS colors must be spot-on no matter which label substrate the client chooses or which press is used to print the labels. Matching input files with on-press displays is also key for efficient workflow.
The new Afinia Label L801 firmware and driver supports custom color-matching profiles created by software from Adobe, Heidelberg, HP, Kodak and X-Rite. International Color Consortium (*.ICM) output profiles can be created with these tools for specific label stocks and added to the driver in order to reproduce consistent, accurate color across different materials. In many instances, the L801 customers will see a lower cost per print due to the inherent efficiency of matching color profiles to specific label materials.
For many, this new feature will offer a great option for consistent color. If a more complete color matching solution is required, Afinia Label offers Wasatch SoftRIP. Wasatch SoftRIP accepts custom output ICM profiles and input profiles that match monitors, scanners and other output devices such as flexo and offset presses.
Wasatch takes color matching a step further by allowing the replacement of specific spot colors within a file for accurate matches to color standards such as Pantone.
For more information on color-matching tools for the Afinia L801 Color Label Printer, please contact your sales representative.
Afinia Label, a division of Microboards Technology, LLC, focuses on specialized printing solutions. Their twenty-year history includes leadership in disc duplication, 3D printing and, most recently, digital label printing. Information for clients in the Americas: http://www.AfiniaLabel.com or by phone at 1.888.215.3966. The rest of the world: http://www.AfiniaLabel.co.uk or by phone at +44 (0) 845 250 7949.