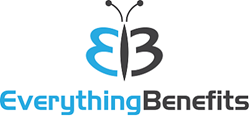 COBRA administration can be complicated to navigate for businesses of all sizes whether it's done in-house or outsourced
New Providence, NJ (PRWEB) February 11, 2016
EverythingBenefits™, a leading provider of benefits technology and services, has expanded its end-to-end benefits platform to now include COBRA compliance and administration software. This can be deployed as a standalone solution or in conjunction with other EverythingBenefits solutions like its carrier connection software.
COBRA, an acronym standing for the Consolidated Omnibus Budget Reconciliation Act, is federal legislation that requires businesses with 20 or more employees to provide access to their group medical plans to COBRA qualified beneficiaries, which are most commonly former employees and their families. There are also state-specific mandates, known as Mini-COBRA, in 75 percent of states that typically require companies with two to 19 employees to comply.
"COBRA administration can be complicated to navigate for businesses of all sizes whether it's done in-house or outsourced," stated Rachel Lyubovitzky, Chief Executive Officer at EverythingBenefits. In order to comply with the legislation, businesses must adhere to complex processes including the management of stringent communication protocols, eligibility tracking guidelines, and coverage period timelines.
This newest addition to the EverythingBenefits platform forecasts a dramatic shift in the way COBRA administration is managed. EverythingBenefits' COBRA compliance and administration software opens the door to a more efficient means of tracking qualifying events and eligibility, managing premium payments, automatically monitoring coverage periods, and providing a platform as a digital liaison for communication between employers and employees.
EverythingBenefits' COBRA software automatically recognizes potential COBRA qualifying events through integrations with various HR, payroll and benefits technology providers. "We're making COBRA administration easier than ever before," continued Lyubovitzky. "The solution alleviates the concern and distraction for our clients as it relates to COBRA and other benefits administration and compliance, which allows them to focus on core business objectives," Lyubovitzky said.
COBRA non-compliance can result in daily excise tax and statutory penalties, sometimes up to 36 months after a resignation or termination. "Businesses cannot rely on sluggish outsourcing options from traditional COBRA administration vendors or manual in-house processes that are extremely susceptible to human errors," added Lyubovitzky. "These traditional ways of handling COBRA administration leave businesses at risk of non-compliance."
"This expansion marks our continued commitment to delivering next-generation benefits solutions to the health and voluntary insurance industry that enable everyone involved to interact with technology in a more meaningful way," concluded Lyubovitzky.
About EverythingBenefits:
EverythingBenefits is headquartered in New Providence, NJ. EverythingBenefits' team is committed to creating and delivering next generation, end-to-end benefit technology solutions and services to employers, employees, benefit brokers, independent agents, insurers and other providers in more meaningful ways.