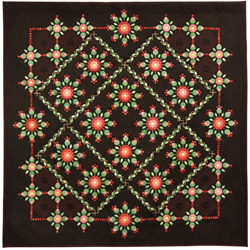 Phoenix, AZ (PRWEB) February 11, 2016
American Quilter's Society, the largest quilting membership organization in the world, is pleased to announce the winners of the AQS Quilt Contest. Over $50,000 in prizes will be awarded to the winners at AQS QuiltWeek® – Phoenix, AZ. The Phoenix AQS QuiltWeek® event will run from February 11 to February 14 at the Phoenix Convention Center, 100 N 3rd St., Phoenix, AZ 85004.
As part of the American Quilter's Society's celebration of quilting excellence, the contest recognizes the skill and creativity of today's quiltmakers, as artists compete in the AQS Quilt Contest for more than $50,000 in cash awards. Entries come from around the world to compete in the contest. This year's winners come from eighteen different states and three countries.
These winning quilts will astound the 15,000 quilters expected to visit AQS QuiltWeek in Phoenix this week:
Best of Show Award
#223 MY BRUNETTE WHIG, Gail Stepanek and Jan Hutchison, New Lenox, IL
Best Wall Quilt Award
#701 SUMMER LAKE SANDHILLS, Joanne Baeth, Bonanza, OR
Best Use of Color Award
#102 HOPELESS, Janneke de Vries-Bodzinga, Kollumerzwaag, Friesland, Netherlands
Best Original Design Award
#505 REBORN, Molly Hamilton-McNally, Tehachapi, CA
Best Hand Workmanship Award
#301 SPRING DANCE, Barbara Clem, Rockford, IL
Best Home Machine Workmanship Award
#105 VIVALDI BY MOONLIGHT, Sandra Leichner, Albany, OR
Best Longarm Machine Workmanship Award
#226 A QUILTER'S GARDEN, Kristin Vierra, Lincoln, NE
Large Quilts – Home Machine Quilted
First #106 GEORGETOWN WEDDING, Ann Petersen, Surprise, AZ
Second #107 WHY NOT?, Angela Petrocelli, Prescott Valley, AZ
Third #113 BLUE PLATE SPECIAL, Susan Stewart, Pittsburg, KS
Hon. Mention #111 ICED GINGER SNAP LATTE, Nancy Simmons, Duncannon, PA
Large Quilts – Longarm Machine Quilted
First #215 FERN RISING, Claudia Pfeil, Krefeld, Germany
Second #216 ON THIS WINTER DAY, Nancy Prince and Linda French, Orlando, FL
Third #212 BODACIOUS, Claudia Clark Myers and Marilyn Badger, Duluth, MN
Hon. Mention #213 TWAS THE NIGHT BEFORE CHRISTMAS, Linda Neal and Jackie Brown, McKinney, TX
Hand Quilted Quilts
First #311 MELINOPHAN, Andrea Stracke, Groß Niendorf, Schleswig-Holstein, Germany
Second #308 BEN'S MIDNIGHT GARDEN, Barbara Korengold, Chevy Chase, MD
Third #313 EXUBERANCE, Zena Thorpe, Chatsworth, CA
Hon. Mention #306 LADIES OF THE SEA, Peggy Green, Sparta, TN
Wall Quilts – Home Machine Quilted
First #406 DAZZLING DAHLIA, Andrea Brokenshire, Round Rock, TX
Second #415 QUILT NOIR, Shirley Gisi, Colorado Springs, CO
Third #442 CAPTAIN KIMO, Nancy Sterett Martin, Owensboro, KY
Hon. Mention #404 BLUE ICE, Inger C. Blood, Camino, CA
Wall Quilts – Longarm Machine Quilted
First #513 LILY PATCH, Karen Watts, Mayhill, NM
Second #510 OCTOBER SKY, Bethanne Nemesh, Allentown, PA
Third #503 KIKU, Sandy Clark, Fresno, CA
Hon. Mention #504 AUTUMN'S SURRENDER, Margaret Solomon Gunn, Gorham, ME
Wall Quilts – Modern
First #617 TROIS PORT DE (AKA 3 DOORS UP), Chris Taylor, Lincoln, NE
Second #610 DEBBY'S MODERN X, Charlotte Noll and Debby Schindall, Lauderhill, FL
Third #606 MAMA LOVES YOU BABY, Monika Hancock, Pine, AZ
Hon. Mention #611 LOG CABIN GOES MODERN, Ann Novak, Chino Valley, AZ
Wall Quilts – Landscape
First #708 YELLOW SKY, Shirley Gisi, Colorado Springs, CO
Second #703 A PASSION FOR PURPLE, Andrea Brokenshire, Round Rock, TX
Third #716 HIGH COUNTRY COLORS, Kathy McNeil, Tulalip, WA
Hon. Mention #704 CARPATHIAN MOUNTAIN SUNSET, Cathy Geier, Waukesha, WI
All of the winning quilts, as well as those of the semifinalists, will be on display at the Phoenix Convention Center from Thursday through Sunday. In addition, AQS QuiltWeek will be hosting a number of other special exhibits, workshops with some of the top talent in the quilt industry, and an extensive merchant mall comprised of both local and national vendors.
Admission to AQS QuiltWeek is $14 per day and tickets can be purchased at the door. Multi-day tickets are available. Hours are Thursday through Saturday, from 9:00 a.m. to 6:00 p.m., and Sunday from 9:00 a.m. to 4:00 p.m. Ticket and additional information can be found at quiltweek.com or by calling 1-270-898-7903.
About the American Quilter's Society
The American Quilter's Society is the largest quilting membership organization in the world. For more than 30 years, AQS has been the leading voice in quilting inspiration and advice, through a broad suite of products—magazines, books, live events, contests, workshops, online networks, patterns, fabric, and catalogs. At AQS, we believe that with inspiration and advice, the creatively-minded individual can take their quilting projects beyond what even they had imagined. The leading authors in quilting choose to publish with AQS; the best in quilt artistry select AQS events to display their work; the newest quilters learn from the knowledge and inspiration of AQS members. For more information on the American Quilter's Society, please visit http://www.americanquilter.com or call 270-898-7903.