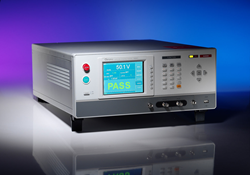 Foothill Ranch, CA (PRWEB) February 16, 2016
Chroma Systems Solutions, Inc., a leading provider of power conversion and safety testing equipment and automated test systems, announces the release of their new 19031A Impulse Winding Tester designed for low inductance applications including transformers, power chokes, and other wound components. Combined with high/low inductance applied technology, the 19301A Impulse Winding Tester has 1000V impulse voltage, 0.25V resolution, and a 200MHz high speed sampling rate to satisfy test requirements for a wide range of power inductance products from 0.1uH to 100uH.
The function of the 19031A Impulse Winding Tester is to discover potential defects as early as possible. Defects can be winding layer short, poor electrode welding, and poor internal coil or core insulation.
The built-in Area Size and Differential Area Comparisons, Flutter Value and Laplacian Value functions make it an effective way to inspect the coils for poor insulation. Even when applied to low inductance winding components, Chroma also includes 4-wire test, contact check, inductance check and a voltage compensation that avoids voltage errors resulting from the variance of DUT inductance or equivalent wiring inductance.
The colorful display and screen capture function enables the user to save waveforms through the USB port on the front panel. The 19031A is well suited for on-site production as well as R&D and quality assurance. For more information on Chroma's 19301A Impulse Winding Tester, logon to http://www.chromausa.com or call us at (949) 600-6400.
About Chroma Systems Solutions
Chroma Systems Solutions, Inc. is a leader in providing power electronics and electrical safety testing instrumentation and systems. Chroma's programmable power supplies, electronic loads, meters, hipot testers and automated testing systems provide solutions for applications in Aerospace, Military, Commercial, Medical, Battery, Marine, and Regulatory Testing as well as green energy markets including Solar, Electric Vehicle and LED. With offices and manufacturing facilities located around the globe, Chroma is dedicated to providing the highest quality equipment for compliance and R&D test engineers as well as unparalleled service and support. Chroma Systems Solutions corporate office is located in Foothill Ranch, CA. For more information, please visit http://www.chromausa.com or call us at (949) 600-6400.